Just in time for summer, Solarveil America Inc., Sanford, Fla., has introduced a revolutionary new line of sun protection that will change the way your family plays in the sun.
The line of activewear is made with a patented new fabric called Solarveil™. This fabric blocks almost all ultraviolet A and B (UVA and UVB) rays, while at the same time is lightweight, cool and comfortable.

Proof In The Pudding

Laboratory tests have shown that a single layer of the Solarveil fabric blocks between 75 percent and 80 percent of UVA and UVB rays, and a double layer blocks 92 percent to 95 percent.
The fabric itself contains thousands of microscopic fibers that reflect and refract ultraviolet rays. The fibers are treated with UV inhibitors, further preventing UV rays from penetrating the fabric.
The American Association of Textile Chemists and Colorists (AATCC) and the American Society for Testing Materials (ASTM) specify the testing process that simulates the sun's intensity in Albuquerque, N.M., at noon in July.
According to the company, many styles in the clothing line are designed with a double layer of Solarveil on the chest, shoulders and back, which are high-exposure areas, allowing the wearer to stay safe in the sun for hours. Unlike sunscreen that has to be reapplied, Solarveil acts like a
permanent sunscreen. The fabric is also breathable and wrinkle-resistant.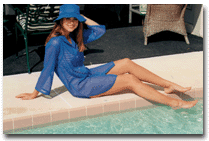 The model is wearing a Solarveil floppy hat with a wide brim and the ladies beach cover up.
Solarveil blocks almost all the sun's harmful UVA and UVB rays.
(Photo courtesy of Solarveil America Inc.)

Manufacturing Magic

Solarveil fabric is manufactured by Milliken & Co. Milliken recently received a patent for Solarveil and manufactures the fabric exclusively for Solarveil America.
Milliken treats the fabric with its patented VISA® system, which makes the fabric stain resistant and creates a wicking property that pulls moisture away from the skin, keeping the wearer cool and comfortable.
The apparel is durable and dries in minutes, making it ideal to wear in the water for added sun protection, the company said.
The apparel first appeared in Mark, Fore & Strike's Spring 1999 catalog. The catalog sold out of its original order and, according to Solarveil America, has placed a significant reorder.
"We are delighted the product has received such a tremendous response," said Bill Snyder, president and CEO of Solarveil America. "We're confident the demand for Solarveil will increase across the country and worldwide."
The company is working with independent sales representatives to place the products in retail stores.

Styles And Colors

Solarveil apparel for men, women and children comes in 10 fashion colors including red, blue, black, olive, white, khaki and seafoam.
In the adult clothing range, styles include beach cover-ups, a long sleeve pullover, T-shirts, polo shirts, pants, jackets and a sarong. Apparel for children, toddlers and infants include T-shirts, pants, jackets and jumpsuits.
There are also seven different styles of hats available, including a bucket hat, golf cap, and sportsveil hats for adults and children.
The MSRP for Solarveil apparel ranges for $25 to $85. The entire line of Solarveil apparel can be viewed on Solarveil America's website at www.solarveil.com. Solarveil America was founded in 1997. The company began selling Solarveil as "stylish stuff for sun-safe skin" in late 1998.
May 1999