SARNIA, Ontario — November 8, 2023 — Aduro Clean Technologies Inc. ("Aduro" or the "Company"), a Canadian developer of patented water-based technologies to chemically recycle plastics, and to transform heavy crude and renewable oils into feedstocks and higher-value fuels, is pleased to announce the appointment of Marie Grönborg as a director of the Company.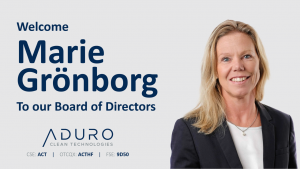 Marie Grönborg holds an M.Sc. in Chemical Engineering and has almost 30 years of global experience in the chemical and clean-tech industries. Ms. Grönborg was the CEO of the Swedish-based company TreeToTextile, a tex-tech company headquartered in Stockholm, jointly owned by H&M, Stora Enso, IKEA and LSCS Invest, which has developed a new sustainable and cost-efficient technology to produce manmade cellulosic fiber for the textile industry. Before joining TreeToTextile, Ms. Grönborg was the CEO of Purac, a provider of turn-key solutions for water treatment and biogas production. Ms. Grönborg was also an Executive Vice President and a part of the Group Management Team of Perstorp, a specialty chemicals company with a focus on the global resins and coatings, engineered fluids and animal nutrition markets.
In addition to her operational roles, Ms. Grönborg currently holds board positions with the Swedish steel company, SSAB, the producer of the world´s first fossil-free steel to customers, with Permascand, a provider of electrochemical solutions for global green transition and with Eolus, an international company with a main business to design and construct facilities for renewable energy and energy storage, focusing mainly on wind power, solar power and battery storage.
"I am very excited about the opportunity to join Aduro as a director of the board and genuinely look forward to contributing to realizing the potential of Aduro and its groundbreaking Hydrochemolytic technology," commented Ms. Grönborg. "It's a privilege to be part of a journey focusing on bringing new solutions to improve sustainability and enable circular economy in the chemical industry, which is where I have my roots."
"We are excited to welcome Marie Grönborg to Aduro's board. Her extensive experience in the chemical and clean-tech industries makes her an invaluable addition," said Ofer Vicus, CEO of Aduro. "We look forward to working with her as our company continues to evolve and to advance our Hydrochemolytic™ technology."
Ms. Grönborg replaces Chris Parr, who has resigned as a director of the Company. The Company thanks Mr. Parr for his services as a director, including his leadership in the acquisition of Aduro Energy Inc. completed in 2021. Despite his resignation from the board, Mr. Parr has agreed to continue as a consultant to the Company, providing corporate advisory, corporate finance, and related advisory services, as required.
Posted: November 8, 2023
Source: Aduro Clean Technologies