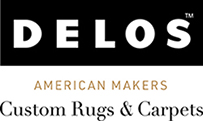 CALHOUN, Ga. — October 27, 2023 — Delos, a manufacturer and importer of custom rugs and carpets, is thrilled to introduce Lacey Stinnett
as the newly appointed Director of Design. With a remarkable
career spanning three decades in the flooring industry, Lacey Stinnett joins Delos to lead the design team and their efforts in the residential, hospitality, aviation, and private sectors. Her extensive design expertise has garnered acclaim from prominent design firms, highlighting her intuitive and principled approach across textile mediums, including Axminster, hand tufted, machine made and other technical processes. Her multifaceted experience also capitalizes on her keen ability to discern and apply design directions well-suited for custom projects.
In addition to design, Delos is excited to have Lacey Stinnett on board to help fine-tune design procedures and protocols and to collaborate closely with in-house departments, including operations, sales, and marketing, to streamline product efficiency.
Lacey studied Scientific Illustration at the University of Georgia and holds a BFA in Art Education from Georgia State University. In her spare time, Lacey enjoys flipping houses alongside her contractor husband.
Lacey will be based at the Delos office in Calhoun, Ga., and her arrival marks a decisive new chapter in Delos' commitment to innovate and inspire design in the world of custom rugs and carpets. Join us in extending a warm welcome to Lacey as she embarks on this exciting journey with our team.
Posted: October 31, 2023
Source: The Delos Company