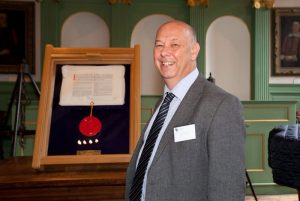 BRADFORD, England — June 22, 2023 — The Society of Dyers and Colourists has elected a new president for 2023-4 as well as other new and returning faces to its board.
Announcements were made at the educational charity's AGM at its headquarters, Perkin House, in Bradford, England, with delegates from around the world joining remotely.
Professor Chris Carr, a former trustee of the SDC, who in 2015 was awarded the society's Gold Medal for outstanding contribution to Textile and Colour Education, is the new president.
He takes over from outgoing president Ullhas Nimkar, the chairman and managing director of India-based NimkarTek Technical Services, who focused his tenure on the global challenge of sustainability for the coloration industry.
Dr. Susan Kay-Williams, is the SDC's president-elect, meaning she will serve as president in 2024/5.
Carr said: "I'm delighted to take on this role and aim to continue to progress the sustainability agenda that Ullhas did such a good job of moving forward. I also want to ensure that the Society is the 'voice for the industry' as it evolves in the 21st Century."
Chris, a liveryman in the Dyers Co., has focused his research and academic interests on the modification of fibrous materials, to improve performance and associated analysis of material, in particular its surface chemistry.
He has collaborated with many international companies and European institutes on projects which have encompassed coloration, dry and wet processing of textiles, laundering, healthcare textiles/materials, fiber degradation and protective mechanisms.
Carr obtained both his undergraduate degree and Ph.D. from University College Cardiff and has worked in Australia, the United States, the Scottish College of Textiles, Heriot Watt University, UMIST and the University of Manchester prior to joining the School of Design, University of Leeds, as Professor of Textile Technology in 2013.
Susan Kay-Williams is chief executive of the Royal School of Needlework (RSN) and was made a fellow of the SDC in 2015 for her work on the history of color. Her recent books include 2013s The Story of Colour in Textiles and An Unbroken Thread, published in 2022 to coincide with the 150th anniversary of the RSN.
Kay-Williams commented: "While my research interest in color is in its past, my upcoming time as president I will want to look at the importance of color in so many aspects of manufacturing today and in the future — and encourage people from all spheres to be more interested in sharing their knowledge and interest."
Four new trustees were elected to serve for the next three years on the Society's board, following a turnout of 24.5 percent of voting members.
They are dyehouse manager Adam Pursell, digital print specialist Linda Hodgson, retired designer, educator and technical consultant Dr. Kate Wells, and academic Prof Parik Goswami.
Wells and Goswami were re-elected for a second term of office. While Pursell was a Trustee before, he stood aside for a year meaning he was eligible for re-election. At a meeting immediately after the AGM, the Society's board re-elected Gavin Thatcher as chair and elected Adam Pursell as vice chair.
Posted: June 22, 2023
Source: The Society of Dyers and Colourists