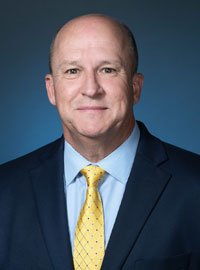 KNOXVILLE, Tenn. — May 20, 2020 — The Institute for Advanced Composites Manufacturing Innovation (IACMI–The Composites Institute) announced today that Mark Morrison has been named to the position of director of communications.
In his new role, Morrison will lead IACMI's public relations and external affairs responsibilities. He will also play a critical liaison role in leveraging the key capabilities of the organization's 150+ members made up of industry, academia and government agencies. This collaborative partnership leads innovation and workforce development initiatives to drive the adoption of advanced composites and grow U.S. manufacturing and support national security.
"Mark is a great fit for IACMI because throughout his career he has driven strategic public affairs and communication initiatives for global manufacturing companies and fostered strong industry and community relationships to advance innovation and achieve business goals," said IACMI CEO John Hopkins. "We are confident that Mark will be an asset to our IACMI team as we create an ecosystem of innovation to drive commercial outcomes that lead to economic growth."
Hopkins said Morrison is joining the organization at a critical time as IACMI is working closely with its consortium network and other U.S. partners in response to the COVID-19 pandemic to accelerate post-crisis recovery efforts through coordination, communication and manufacturing assistance.
"The current coronavirus pandemic underscores the importance of having IACMI consortium members aligned and connected with each other as a community, and the broader connectivity provided by the Manufacturing USA Institutes as a network of these communities, so we can accelerate technical innovations and rapidly manufacture solutions to meet U.S. demand," Hopkins said. "Mark will work with our IACMI stakeholders across industry, academic institutions and federal, state, and local governments to directly advance this mission."
Morrison joins IACMI after spending 20 years in senior level communication and external affairs roles with global industrial companies, including Honda North America and Louisiana-Pacific Corporation.
He earned a Bachelor of Arts degree from the University of Alabama.
Posted May 20, 2020
Source: IACMI-The Composites Institute