The Technical Association for the Pulp, Paper, Packaging and Converting Industries (TAPPI) Nonwovens Engineers and Technologists (NET) Division, Peachtree Corners, Ga., has presented the Leadership and Service Award and Dow Chemical Company Prize to Behnam Pourdeyhimi, Ph.D., North Carolina State University; the 2014 TAPPI NET Division Innovations in Nonwovens Award to Pierre Grondin, Polymer Group Inc.; and the 2014 TAPPI NET Division Technical Award & Mark Hollingsworth Prize to Gajanan S. Bhat, University of Tennessee.
International Textile Group Inc. (ITG), Greensboro, N.C., has promoted Kenneth T. Kunberger to president and CEO to succeed Joseph L. Gorga, who is retiring effective May 31.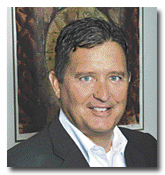 Kunberger
Fi-Tech Inc., Richmond, Va., has named Ian Mills market development director.
Minnesota Knitting Mills Inc., St. Paul, Minn., has named Wade Kytola vice president and a member of the Board of Directors.
Safe Reflections Inc., St. Paul, Minn., has named Cedra Garcia global account manager.
The North-American Association of Uniform Manufacturers & Distributors (NAUMD), Syosset, N.Y., has elected to its Board of Directors for a two-year term: Jim Tewmey, VF Imagewear Inc., chairman; Brian Garry, Cintas Corp., vice chairman; Phil Newman, PSC Uniform Apparel by Cobmex, treasurer; Margaret Ramsdale, Omega Uniform Systems, member at large; Richard J. Lerman, NAUMD, secretary; and Steve Robinson, Liberty Uniform Mfg. Co. Inc., immediate past chairman.
Martex Fiber Southern Corp., Charlotte, has appointed David J. Kennedy CFO and chief administrative officer; Kassandra Braun, director of marketing; and Karl Kakadelis vice president, information and technology.

Kennedy
Suominen Corp., Finland, has named Lynda A. Kelly senior vice president, Care business area, and a member of the Corporate Executive Team.
May/June 2014