Washington-based Cotton Council International's (CCI's) Board of Directors has elected Jordan Lea 2014 president. CCI's Board also has elected the following 2014 officers: Dahlen K. Hancock, first vice president; Keith T. Lucas, second vice president; Anthony Tancredi, treasurer; Mark D. Lange, secretary; and Kevin Latner, assistant secretary. E. Hope "Hopie" Brooks III, James C. Massey and Cannon Michael have been elected 2014 CCI directors.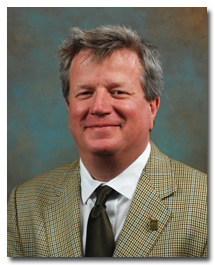 Lea

Washington, N.C.-based National Spinning Co. Inc.'s Board of Directors has elected James "Jim" Booterbaugh president. Former President James "Jim" Chesnutt remains CEO and Chairman of the Board.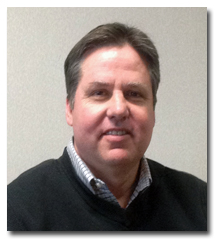 Booterbaugh

The National Cotton Council of America (NCC), Cordova, Tenn., has elected the following 2014 officers: Wallace L. Darneille, chairman; Sledge Taylor, vice chairman; Clyde Sharp, secretary-treasurer; and Joe Nicosia, vice president. NCC also has given Senator Saxby Chambliss, R-Ga., the 2013 Harry S. Baker Distinguished Service Award for his extraordinary service, leadership and dedication to the U.S. cotton industry.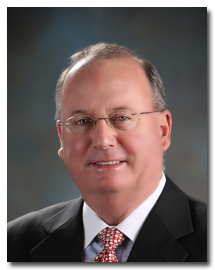 Darneille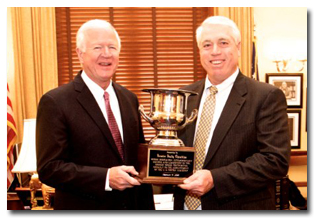 Chambliss (left) receiving the 2013 Harry S. Baker Distinguished Service Award

H. Stoll GmbH & Co. KG, Germany, has named Andreas Schellhammer CEO.

Fountain Inn, S.C.-based Saati Americas Corp. has named Woody Woodham vice president, U.S. Protection Division; and William A. "Bill" Spano multifilament weaving manager.

Paris-based Lectra has appointed Edouard Macquin a member of the Executive Committee.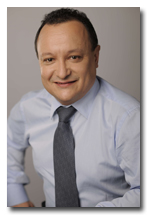 Macquin

Santa Monica, Calif.-based events and information services company Advanstar Global LLC has promoted Christopher Griffin to president, WWDMAGIC and Sourcing at MAGIC; and has promoted Leslie Gallin to president, Footwear, Advanstar Global.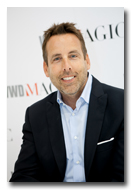 Griffin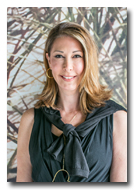 Gallin

Costa Mesa, Calif.-based Anna's Linens has promoted Scott Gladstone to CEO.

Aurora, Ill.-based Processing Technologies International LLC has appointed Matthew Banach director of sales.

January/February 2014