The Arlington, Va.-based
American Apparel & Footwear Association (AAFA) has named
Suzanne Shomers vice president, finance and administration.
Messe Frankfurt USA, Atlanta, has promoted
Stephanie Everett to vice president, responsible for U.S. and Canada shows.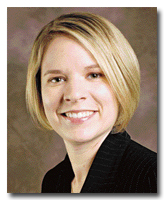 Everett
The Board of Directors of
Tranoco Inc., Travelers Rest, S.C., has elected
Larry W. Byars president and
Elizabeth Kraft vice president.
China General Plastics Corp. of America (Enduratex), City of Industry, Calif., has
named
Eric D. Peterson national sales manager.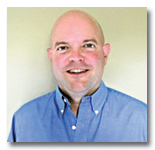 Peterson
SATO Corp., Tokyo, has named
Kazuo Matsuyama president and CEO effective October 3; and
J. Michael Fowler general manager, International Business Division.
Saint-Gobain, Paris, has named
John Crowe president and CEO Saint-Gobain Corp. and CertainTeed Corp.
Milliken & Company, Spartanburg, has elected
Harold Chandler chairman of the Board.
Oxford Industries Inc., Atlanta, has promoted
Wesley Howard to president, Lanier Clothes.
Assofibre CIRFS Italia, Italy, has named
Maurizio Radici, RadiciGroup, president.
Stork Prints America Inc., Charlotte, has named
Edward Scheppink managing director and
Alan J. Fenno sales manager, Textiles.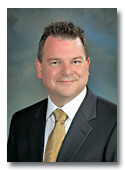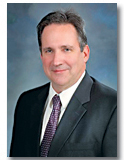 Scheppink (left) and Fenno

Glen Raven, N.C.-based
Glen Raven Inc.'s Technical Fabrics division has promoted
Gary Zumstein to vice president of R&D, Protective Market; and has named
Rodney Holland director of sales.
The Cotton Board, Memphis, Tenn., has elected
John Clark, Michar LLC, chairman.
Paris-based
Lectra has named
Anastasia "Stacey" Charbin marketing director, fashion.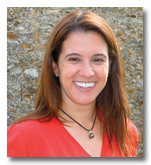 Charbin
Americhem Inc., Cuyahoga Falls, Ohio, has named
Marty Staten account manager, fibers business unit.
Secant Medical, Perkasie, Penn., has appointed
Karen West senior vice president, strategic development; and has promoted
Jeff Koslosky to vice president, advanced technologies, and
Carlos Valdes to operations integration.
San Francisco State University student designer
Amy Dorie has won Salt Lake City-based
Outdoor Retailer's Project OR Cycle 7 competition.
Radiant Energy Systems Inc., Hawthorne, N.J., has appointed
Terry Perdue engineering manager, and
Stephen J. Miggels project engineer.
The
Technical Association of the Pulp, Paper, Packaging and Converting Industries'
(TAPPI's) NET Division has named
Dr. Anthony Atala, Wake Forest Institute for Regenerative Medicine and Wake Forest
Baptist Medical Center, winner of the 2011 Innovation in Nonwovens Award;
Dr. William M. "Bill" Ferry, ExxonMobil Chemical Co., winner of the Technical
Award and Mark Hollingsworth Prize; and
Bill Bittle, SciEnTech, winner of the NET Division Leadership & Service Award
and Haas Prize.
Propex Operating Co. LLC, Chattanooga, Tenn., has named
John Maynie director of marketing.
Vancouver, Canada-based
Naturally Advanced Technologies Inc. has named
Thomas C. Robinson COO,
Jay Nalbach chief marketing officer and Ryan Leverenz director, global corporate
communications.
Xennia Technology Ltd., United Kingdom, has appointed
Laurie Geldenhuys commercial director.



Bunting Magnetics Co., Newton, Kan., has named
Dr. Pete Lipetzky general manager of Magnet Applications' Dubois, Pa., facility;
and
Matthew Mason,
Cory Dreiling and
Brandon Bousquet design engineers, Material Handling product line.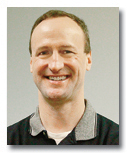 Lipetzky
September/October 2011