Miramar, Fla.-based
PrintLat LLC has named
Edgar Machado a member of the executive team, Latin America.
Zepol Corp., Minneapolis, has appointed
Mark Segner vice president, sales.
Dr. Seshadri Ramkumar, manager of the Nonwoven and Advanced Materials Laboratory
and associate professor at The Institute of Environmental and Human Health, Texas Tech University,
Lubbock, Texas, has received the
Lubbock Chamber of Commerce's Innovation in Technology Award for his invention of
Fibertect® nonwoven decontamination wipe technology.



Visual 2000 International Inc., Montreal, has named
Tony Walker European sales director.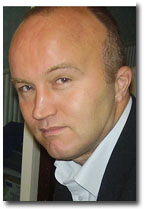 Walker


Pratt Institute, New York City, has presented the Fifth Annual Pratt and Goldsmith
Competition Awards to Pratt Institute fashion design students
Dana Hurwitz, who won $1,000 for her cocktail dress; and
Angel Ho, who won $500 for her fashion illustration.
Natick, Mass.-based
Cognex Corp. has promoted
Robert Willett to CEO.



Tarter Krinsky & Drogin LLP, New York City, has named
Giuliano Iannaccone a partner.
Finland-based
Ahlstrom Corp. has appointed
Paul H. Stenson executive vice president, business development, and member of the
executive management team effective May 30, 2011.
The
U.S. Trade Representative (USTR) has named
Sharon Bomer assistant USTR for agricultural affairs and commodity policy,
effective May 2011.
England-based
Textiles Intelligence Ltd. has added
Shaheda Khanom and
Rachel Varughese to its editorial team.
Tefron Ltd., Israel, has appointed
Galit Wexler vice president, North America; and
Jeff Danzer and his team at BrandAxion to develop Tefron's North American
marketing strategy.