LONDON, UK — November 13, 2023 — RHEON Labs® is officially introducing a curved protector for motorcycle riders. Previously only released via innovation partner Harley-Davidson, the specialist RHEON™ technology will now be available to the wider motorcycle apparel community.
As well as offering the highest level of protection (Level 2 for impact protection and Type B for area coverage), the curved protectors are super breathable, soft, and lightweight. The secret is RHEON's superpolymer which has ultra-high energy-absorbing properties. The geometry and pattern of the inserts is designed using a patented algorithm which mimics how cells are packed in nature for a naturally lighter protector, which is manufactured using a unique form of 3D printing.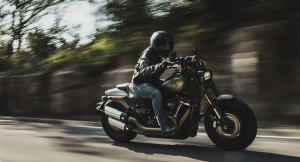 The technology in the protectors is the same as in the Harley-Davidson ADV & Quest ranges.
"These curved protectors for moto riders are an essential addition to our growing RHEON ™ Armour Collection, and for any moto rider who wants to uplevel their protective gear." says Paul Farrar from RHEON Labs®.
"Motorcycling has always meant enduring uncomfortable body armour. Being hot and sweaty, with bulky armour has been a given. We decided to fix this age-old problem."
"Since its founding in 2017, our team has relentlessly pursued innovation to create materials and products that were previously thought impossible. In our collaborations with Harley-Davidson & beyond we have built superior body armour specifically designed for moto riders. This wider launch is the next step in making those superior technical benefits available to the wider riding community."
Watch out for more RHEON™ launches and real-world testing by well-known riders in the coming season.
RHEON™ technology
Every now and then a new material is developed with a set of properties that were previously thought impossible.
At the core of RHEON™ is an energy-absorbing super polymer. It is soft and flexible in its natural state but absorbs energy by stiffening when subjected to force. It can be integrated into countless products to dissipate high levels of energy or give them unique responsive properties.
Posted: November 13, 2023
Source: RHEON Labs ®