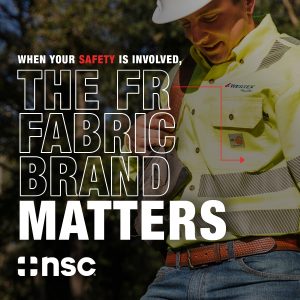 SPARTANBURG, S.C. — October 9, 2023 — Global flame-resistant and arc-rated (FR/AR) textile manufacturer, Westex: A Milliken Brand, announced today its 2023 NSC Safety Congress & Expo schedule and booth number (booth 3437).
Innovations in Protective Garment Materials
This year, Westex will showcase some of their most popular fabrics through customer garments on display in their booth. Featuring brands like Ariat, Carhartt and Wrangler, attendees will be able to experience fabric lines favored by workers including Westex® DH Air™, Westex® Indigo® denim and the Polartec® FR Collection. New hi-vis options and stretch Indigo denim made with REPREVE® performance fiber from recycled materials are available for viewing. Westex hopes to achieve another blue-ribbon finish as "NSC Best in Show" with this denim.
In-Booth Expert Info Sessions
Building on the popularity of previous years' presentations, Westex FR experts will give two, free-to-attend presentations in the booth. The sessions are designed for attendees responsible for building protective apparel programs within their companies. The two sessions are titled:
Monday, Oct. 23 at 2 p.m. EST: "Key Drivers in New FR/AR Technology"
Tuesday, Oct. 24 at 2 p.m. EST: "Myths and Realities of FR Protective Garments" (presented in Spanish)
Special Guest Appearances
This year, the Westex booth will include Lenzing Group and safety advocate Brandon Schroeder. In 2023, Schroeder, the founder of Believe in Safety, joined Westex at multiple regional shows sharing his arc flash survival story and the importance of proper PPE use. He will make multiple stops to the Westex booth throughout the three-day event in New Orleans.
Following their 2022 partnership announcement, Lenzing Group will also be available to meet with attendees of the Westex booth (by appointment only) to discuss the use of their popular TENCEL™ lyocell* fiber, currently used in multiple Westex fabric lines. Attendees interested in learning more about sustainable apparel programs and more environmentally responsible material choices, are encouraged to meet with the experts during show hours.
"Part of the Westex value system is to always be on the lookout for solutions to the market's biggest challenges. Listening to our customers and identifying their needs is a point of pride for us and NSC is one of the biggest opportunities for us to hear what the industry is experiencing and take that back to our innovation team," said Michael Langley, vice president of protective fabrics. "We're particularly excited to share some of the sustainability and sourcing trends we're seeing within the protective apparel market and understanding how we can help our customers apply what we've learned."
All events will take place at the 2023 NSC Safety Congress & Expo in the Westex booth (3437). Walk-ups are welcome. Visit westex.com for more information.
*TENCEL is a trademark of Lenzing AG.
Posted: October 17, 2023
Source: Westex: A Milliken Brand