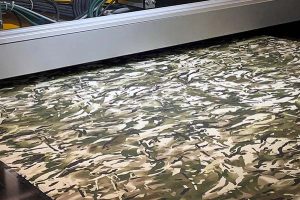 KUFSTEIN, Austria — October 10, 2023 — Military camouflage printing with IRR-Control is a special challenge as its applied on a great variety of fabrics for use with numerous end products. A combination of several ink classes is required and the IRR-control is considered to be the third dimension in color matching.
Demand for military fabrics is estimated at roughly 400 Mio m p.a. at a growing demand. Since 2020, ZIMMER AUSTRIA has invested heavily in the development of new processes and knowhow.
Digital printing revolutionizes military camouflage
The complexity of military camouflage printing is immense. The wide-ranging requirements for the end products necessitate the use of a variety of technical textiles.
Camouflage printing is preliminary used in military applications to conceal or disguise soldiers, vehicles, or equipment in their surroundings. The patterns are mainly inspired by natural environments, such as woodland, desert, snow, or urban surroundings. A special feature is the IRR control which is required to ensure the camouflage effect not just in daylight but under the use of night vision devices in twilight and darkness of the night as well.
Please see https://www.zimmer-kufstein.com for more information
Posted: October 10, 2023
Source: Zimmer Maschinenbau GmbH (Michael Heinrich)