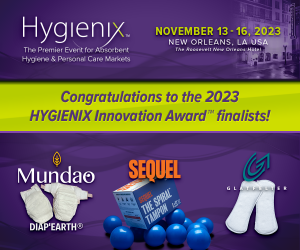 CARY, N.C. — October 5, 2023 — INDA, the Association of the Nonwoven Fabrics Industry, revealed the three finalists that will compete for the Hygienix Innovation Award™. Glatfelter, Mundeo, and Sequel will present their new absorbent hygiene products to senior-level leaders at Hygienix, November 13-16, at The Roosevelt New Orleans Hotel, New Orleans, Louisiana.
Here is a summary of the finalists' products:
Glatfelter: GlatPure™
GlatPure™ is a range of bio-based absorbent hygiene components derived from renewable materials. This product range consists of a variety of plant-based and natural topsheets, an acquisition distribution layer, an absorbent core, a newly improved backsheet, and a landing zone. Crafted from 100-percent renewable fibers and biodegradable materials, and enriched with bio-based binders, GlatPure stands as the industry's first fully functional, fossil-fuel free range of solutions.
Mundao: Diap'Earth®
From nature to nature: Mundao brings to market DIAP'EARTH®, an industrially compostable baby diaper. This diaper provides a circular solution to the AHP waste issue. Ecoconception (DIAP'EARTH is a bio-based & plastic free diaper) makes it possible to compost the diaper in an industrial composting facility to turn it into carbon where it can become fertilizer for soil. DIAP'EARTH has been successfully composted in major French cities.
Sequel: The Sequel Spiral™ Tampon
The Sequel Spiral™ Tampon features a proprietary spiral design that is engineered to be more fluid mechanically efficient, meaning it is designed to absorb more evenly and not leak before it's full. In August 2023 the Sequel Spiral Tampon received clearance from the United States Food and Drug Administration (FDA) as a medical device and the company will now begin a series of consumer trials, with broad availability expected in Q1 of 2024.
The winner of the Award will be announced at the end of the event, Thursday, November 16, at 11:30 a.m. Last year's award recipient was Pads on a Roll™ by Egal Pads. Pads on a Roll is a wrapped super-thin absorbent period pad that dispenses like toilet paper in public bathroom stalls, preventing the personal embarrassment of not having a menstrual product when needed.
Conference Highlights
In addition to the award presentation, the Hygienix conference will focus on consumer-centric innovations, the circular economy, raw material advancements in sustainability, opportunities for advanced recycling in absorbent hygiene, optimizing the packaging footprint, new approaches for odor control, and market trends and drivers. Plus, INDA's Government Affairs office will be in attendance to provide insights into recent regulatory and legislative issues. Participants can learn about how the current political landscape could affect the nonwovens industry.
For the full program and to register, visit the Hygienix website https://www.hygienix.org/index.html.
Posted: October 5, 2023
Source: INDA, the Association of the Nonwoven Fabrics Industry