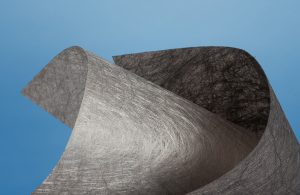 WEINHEIM, Germany — October 5, 2023 — Freudenberg Performance Materials (Freudenberg) is extending its recently-introduced ECO range of sustainable nonwoven carpet backings: Lutradur ECO-R and Colback ECO-R backings contain high percentages of recycled raw materials. With its ECO portfolio Freudenberg supports carpet manufacturers in their transition towards an increasingly sustainable product offering.
ECO-R products
Freudenberg's spunbond nonwoven primary and secondary carpet backings contribute to manufacturers' easy and efficient production processes as well as to high-performance end products. The company is now extending its ECO range in Europe with Colback ECO-R and Lutradur ECO-R backings that contain a recycled content of between 51 and 90%. Replacing virgin raw materials with recycled polyester saves on natural resources and improves the carbon footprint of end products. The ECO-R backings are specifically suitable for carpet tiles, broadloom, dust control mats and automotive option mats.
ECO-RE products
The company launched its ECO range for sustainable primary backings earlier this year with the introduction of the ECO-RE resource-efficient backings that use less raw materials and support end product recyclability. To achieve this, Freudenberg R&D teams further developed the company's proprietary yarn production technology allowing for extremely thin filaments.
ECO range
"With the extended ECO range, Freudenberg now offers a variety of different solutions supporting carpet manufacturers in making sustainable choices to suit their ambitions and processes," said Albert Hammerschmied, director for EMEA carpet business with responsibility for New Business Development and Sustainability. "Freudenberg is a long-term supplier to the industry with a strong history of developing tailored solutions for and with our industry partners. The continuous development of backings with recycled content is one result of these efforts."
Further CO2 savings
Freudenberg manufactures carpet backings with recycled content in Europe, North America and China, allowing customers within the world regions to further optimize their CO2 footprint thanks to short transportation routes.
Posted: October 5, 2023
Source Freudenberg Performance Materials Holding GmbH