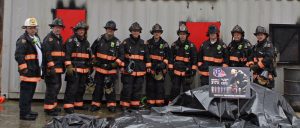 MEDINA, Ohio — April 24, 2023 — Fire-Dex, an supplier of high-performance firefighting gear, is proud to announce the donation of protective garments to Hands-on Training (H.O.T.) Evolutions instructors at the 2023 FDIC International Conference in Indianapolis, Indiana.
H.O.T. Evolutions is a premier training program designed to help firefighters build the competencies required for the modern fireground. Fire-Dex's annual donation enables instructors to comfortably train firefighters on essential skills and to stay protected head-to-toe during practical exercises.
Fire-Dex has supported the H.O.T. program since 2016, donating more than 400 sets of garments to instructors over seven years. For the 2023 FDIC conference, Fire-Dex is providing 32 sets of TECGEN51 Fatigues personalized with the H.O.T. Evolutions logo.
"TECGEN51 Fatigues provide our instructors with a great option in lightweight PPE," said David Rhodes, education director for FDIC. "The heavy-duty, rugged, fatigue-style gear provides great protection and flexibility, reduces heat stress, and is very easy to pack and transport."
Not Your Typical Gear
Fire-Dex TECGEN51 Fatigues are designed for calls that don't require interior structural firefighting gear. The National Fire Protection Association (NFPA) reports over 1.3 million "fire" calls in 2021 as opposed to more than 35 million "non-fire" calls including EMS, false alarm, hazardous material and other emergency conditions. Wearing alternative PPE for non-fire calls can increase the service life of structural gear and lessen the risk of cross-contamination among crew members potentially exposed to carcinogens.
Dual-certified to NFPA 1951 (technical rescue) and 1977 (wildland firefighting), TECGEN51 Fatigues provide high levels of thermal protection and breathability to reduce physical strain and heat stress on the wearer. This combination of benefits allows H.O.T. instructors to leave their turnout gear at home when traveling to the FDIC conference.
Not Your Typical Training
H.O.T. Evolutions courses cover the latest technology and techniques in the fire service. More than a routine training event, the program is instructed by key industry players who bridge the gap between hands-on skills and those developed in the classroom. With Fire-Dex gear, H.O.T. instructors have found the right fit for helping participants become better firefighters.
"We have a long-standing history of partnering with FDIC International to support and protect the brave men and women in service around the world," said Jenny Surovey, vice president of marketing for Fire-Dex. "The H.O.T. Evolutions group can rest assured that they have the best gear to safely and confidently lead their demonstrations."
Fire-Dex is a team of fiercely passionate and driven professionals dedicated to creating the most advanced designs that achieve the highest standards of flame resistance, the most comfortable fit and the best value. At FDIC International, attendees can see the same gear that H.O.T. instructors use in the Fire-Dex booth (#1945).
Posted: April 24, 2023
Source: Fire-Dex