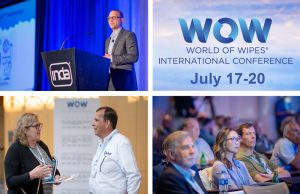 CARY, N.C. — March 14, 2023 — INDA announced the program for the World of Wipes® (WOW) International Conference, July 17-20, Atlanta. Key topics include: Plastics policy: closing the "intention-action" gap, sustainable manufacturing practices, what consumers think about sustainability and how they are driving cultural change, supply chain transparency, wipes advancements, flushability developments, and a special CEO panel sharing their organizations' approach to inflation, supply chain challenges, and capacity/demand balance.
Among the leading organizations presenting at this year's event are: Berry Global, Birla Cellulose, Bringabouts, Bureau Veritas, Diamond Wipes, Freudenberg Performance Materials, Glatfelter, Goodwipes, Kimberly-Clark Corporation, National Cotton Council, Mango Consulting, Plastics Industry Association, Rockline Industries, Sharon Laboratories, and Trützschler Nonwovens. Program and speaker details are available on the WOW website. https://www.worldofwipes.org/
Two new features at WOW this year are Lightning Talks and Lunch Around. Lightning Talks are an opportunity for tabletop exhibitors to highlight their innovations in "supersized elevator speeches" to WOW participants. Lightning Talks will take place before the tabletop exhibits open Tuesday and Wednesday evenings. The Lunch Around opportunity connects participants and thought leaders from the wipes industry at select downtown Atlanta restaurants on Tuesday and Wednesday. Space is limited and is first-come, first-served.
WOW kicks off with the WIPES Academy, a comprehensive course including elements of market research, materials, chemistry, converting, and regulatory filing. This course has been redeveloped to include all aspects of wipes development from concept to commercialization. The WIPES Academy is led by Heidi Beatty, Chief Executive Officer, and Paul Davies, Ph.D., Consultant, Crown Abbey LLC. Ms. Beatty and Mr. Davies bring decades of practical experience to give participants real-world solutions for product development challenges and tools to improve processes.
Registrations and tabletop exhibit reservations are open with early registration discounts offered until June 5. Nominations will be accepted for the World of Wipes Innovation Award® until May 5, 2023. For more information or to nominate, visit: www.worldofwipes.org/award-nominations.html
INDA is grateful for this year's WOW sponsors – Cotton Incorporated and Rockline Industries.
Posted: March 14, 2023
Source: INDA, Association of the Nonwoven Fabrics Industry