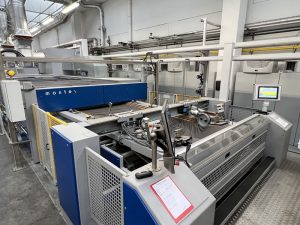 MÖNCHENGLADBACH, Germany — October 12, 2022 — The identification of profitable new niche markets has been central to the success and continuous expansion of Germany's Dolinschek, a knitting, dyeing and finishing specialist located in Burladingen in Baden-Württemberg.
"There is so much more to textiles than just clothing," said Theo Dolinschek, who runs the company with his brother Erwin. "We handle many different technical materials such as automotive components, geotextiles and wallcoverings, but also those for more unusual applications such as inlays for extractor hoods, cut protection fabrics and even wool felts which are employed as insulation on wind turbines.
"We have also recently started to produce compression stockings in a variety of colours, because not everyone wants them black, beige or skin coloured. The most important product areas for us now are in sportswear, corsetry and lingerie, as well as orthopedic and medical products, workwear and protective clothing, but in addition, many other technical applications. It's very necessary to keep thinking ahead and recognise the full diversity of the textile sector."
Historic location
The Dolinschek brothers moved their business to the historic site of the former Ambrosius Heim textile company in Burladingen in 2001 in order to expand. At the time, the company — founded by their father in 1980 as a textile wholesaler before moving into dyeing — employed just 13 people. Within a year, the company had bought additional space at the site.
Now, with Theo in charge of technology and sales, and Erwin responsible for production, the company employs almost 100 people and operates on an integrated site of 35,000 square metres.
In 2005, a laminating department was established by the company and since 2012 investment in knitting machines has been ongoing.
"The further we went into vertical integration, the more of our own products we were able to position on the market and so we were also able to make ourselves more independent," Theo said. "We have continued to develop and today we can produce high-quality fabrics for many fields, with 42 knitting machines, 36 dyeing machines, three stenter frames and many other production and processing machines."
Proprietary technology
Dolinschek has also developed its own proprietary TMG dyeing machines which have subsequently been successfully sold to many other companies all over the world. There are currently 11 of these machines in operation at the Burladingen site and around 45 installed at other companies.
"There are many general techniques for finishing textile fabrics but it is necessary to constantly look for other ways and solutions," Theo said. "We do this all the time, if only to save time, energy and other resources."
For finishing technology, however, the company relies on Monforts, and has installed a new seven chamber Montex TwinAir stenter range with a Montex®Coat coating unit in knife execution, enabling the coating of dimensionally stable knitted fabrics with polyurethane or acrylate. Another unique feature is the Teflon-coated (non-stick) transportation belt through the system.
The Montex line is also equipped with integrated heat recovery and exhaust gas purification to ensure the most resource-efficient processing available on the market. The exhaust air goes from the Monforts heat recovery system into an existing air/water heat recovery system and then into an electrostatic precipitator.
Highly-intuitive Monforts Qualitex visualization software allows all machine functions and process parameters to be assessed and controlled easily, and thousands of article specific settings and formulations to be called up at any time — with 100-percent reproducible results.
"The system was installed quickly and the well-engineered technology was soon put into operation," Theo says. "We enjoyed a very good cooperation with Monforts from the planning stage and especially during the commissioning. We have also just put a new Erbatech open-width washing machine into operation to round off our new in-house technology and we are constantly involved in staff training and development and the improvement of our products, as well as currently with the stabilization and safeguarding of all processes."
Posted: October 13, 2022
Source: A. Monforts Textilmaschinen GmbH & Co. KG