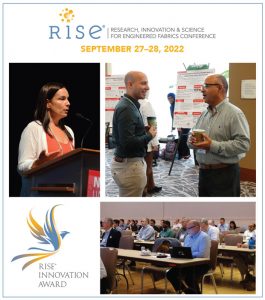 CARY, N.C. — July 12, 2022 — Nonwovens innovators will convene in-person for RISE® — Research, Innovation & Science for Engineered Fabrics Conference — the industry's premier conference on nonwovens science and technology, September 27-28 at North Carolina State University in Raleigh.
The 12th edition of RISE returns live to Talley Student Union after being held virtually over the last two years. The event is co-organized by INDA and The Nonwovens Institute at North Carolina State University. Registration is now open at https://www.riseconf.net/ the RISE website.
Experts in product development, material science, and new technologies will come together for this insightful two-day conference focused on promising technology developments, future needs and market opportunities. Participants will have opportunities to exchange views on innovative nonwoven technologies and applications, furthering INDA's strategic initiative to connect and convene the industry.
The 2022 RISE program will focus on breaking developments in responsible sourcing of nonwoven inputs, realistic end-of-life options, and circularity opportunities in the world of nonwovens and engineered materials with thought leaders presenting on these cutting-edge topics.
Innovations that solve problems and advance the nonwovens industry will be recognized with the 2022 RISE Innovation Award. The award will be presented September 28 in the culmination of the event. Companies can self-nominate products online until July 15. Last year's winner was the Canopy Respirator, an innovative, fully mechanical, non-electrostatic respirator with a filter designed for superior breathability and wearer facial transparency.
RISE participants will have the special opportunity on September 27, from 5:30 to 7:30 p.m., to tour The Nonwovens Institute's $50 million-plus, 60,000 square-foot facilities featuring state-of-the-art equipment, pilot lines and analytical facilities, and attend a networking reception at the on-campus Lonnie Pool Golf Course Clubhouse. The tour will be limited to 50 attendees and advance response is required. The reception will be open to all attendees.
The conference will include student poster presentations by North Carolina State University graduate students who will discuss their innovative processes and technical advances in the nonwovens industry. Participants also will have opportunities to network during coffee and session breaks and a buffet lunch.
Speaker Snapshot
A few topics that will be addressed by visionary speakers at RISE® include:
North American Economic Outlook — Dr. Robert Fry Jr., principal, Robert Fry Economics LLC
Sustainable Fibers — Developments and the Future – Dr. David Grewell, director, Center for Bioplastics and Biocomposites
Achieving Supply Chain Circularity – Redesigning Plastics to be Recyclable-by-Design — Dr. Kat Knauer, Program manager – V Research, National Renewable Energy Laboratory (NREL)
Novel Biobased Resins Outperforming Plastics and Other Biodegradable Biopolymers — Steven Sherman, CEO, BioLogiQ Inc.
Stereochemistry Strategies to Toughen Sugar-Based Polymers and Degradable Elastomers -—Dr. Matthew Becker, Hugo L. Blomquist Distinguished professor, Duke University
Biobased Multicomponent Structures Providing Unique Characteristics and Sustainable Properties to Nonwovens — Kristel Beckers, Senior Application technician, Total Corbion PLA
For the full RISE® program, speaker biographies and other updates, see the RISE® website. (https://www.riseconf.net/)
Posted: July 12, 2022
Source: INDA, the Association of the Nonwoven Fabrics Industry