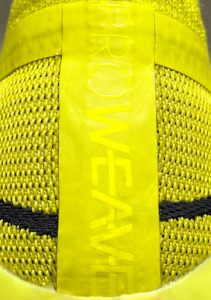 SKELTON, UK — December 20, 2021 — Texon, a supplier of performance fabrics and structural components for the footwear industry, today announced it is working with Umbro, the global sports brand, on a world first in the design and manufacture of football boots. As part of an exciting new collaboration, Umbro is integrating ProWeave — Texon's jacquard weaving technology — into its speed silo for Autumn/Winter (AW) 22.
ProWeave totally transforms the way performance fabrics are made and how they look, feel and function. Creating different elasticity, tenacity and abrasion zones within the same weave, ProWeave helps brands bring new creative concepts to life.
Commenting on the collaboration, Paul Jackson, Business Acceleration leader for ProWeave at Texon, said: "We are incredibly excited to be working with Umbro on a world-first in the football boot arena. ProWeave is a unique solution that opens up infinite new creative possibilities – enabling footwear designers to place zonal features exactly where they want them. This has huge benefits for the wearer in terms of performance, movement and comfort. We look forward to seeing ProWeave in action on football pitches worldwide in AW2022."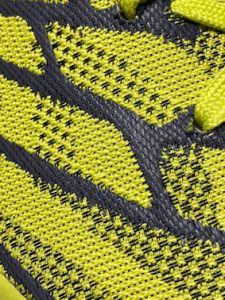 Colin Lomas, category director, Footwear and Equipment, at Umbro, said: "We are delighted to be working with Texon on this ground-breaking innovation. At Umbro we believe that products crafted with style and true player insight give athletes a competitive advantage. With the introduction of ProWeave we are able to offer our consumers another world-first after the successful launch of Medusae, the first laceless leather boot in 2018, as well as the 2019 release of the UX Accuro featuring D3O technology."
ProWeave is being used exclusively in the football boot sector by Umbro until 2023. Further details of Umbro's football boots featuring ProWeave remain under wraps until Q3 2022.
Posted December 21, 2021
Source: Texon