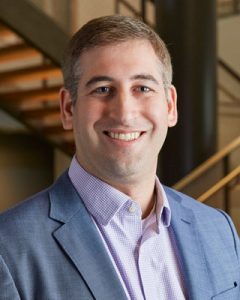 BURLINGTON, N.C. — October 25, 2021 — Glen Raven Inc. is pleased to announce that Marc Austein has joined the company as vice president of corporate development. As a member of Glen Raven's executive leadership team, Austein will work closely with Glen Raven leadership to identify and implement growth strategies for the company, including new acquisitions and partnerships for Glen Raven's global business.
"We're doubling down on our commitment to future growth through significant investments to enhance our operations and by hiring top talent like Marc. He brings to Glen Raven great passion, smart thinking and solid experience, and we're thrilled to have him join our team and help us continue to grow the company," said Leib Oehmig, Glen Raven Inc. CEO.
Prior to joining Glen Raven, Austein served as a senior director of strategy and corporate development at Tyson Foods, overseeing strategic planning and key initiatives for the company's $9 billion Prepared Foods Segment. Previously, he spent 10 years developing and executing growth strategies for leading consumer-facing companies as a member of The Cambridge Group's leadership team.
"Glen Raven has a strong legacy and a bright future. I've already seen the commitment and energy, and leadership has demonstrated they are willing to make significant investments to ensure the company reaches its growth potential," Austein said.
Austein's hiring comes on the heels of Glen Raven's recent announcements to invest more than $250 million to significantly expand the company's global capacity and support its focus on sustainable manufacturing.
Austein earned his bachelor's degree from Northwestern University and his Master of Business Administration, with honors, from the University of Chicago Booth School of Business.
Posted October 25, 2021
Source: Glen Raven Inc.