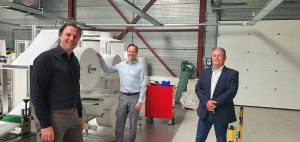 ARNHEM, The Netherlands — June 23, 2020 — Colback nonwovens are helping to solve the shortage of personal protective equipment in healthcare institutions in the Netherlands. In a public/private enterprise, Low & Bonar´s Colback production site in the Netherlands offered its support after a call from the Dutch government. Colback nonwovens are now included as a reinforcement layer in FFP2-certified medical face masks. The masks themselves are produced by another company located in the Netherlands: AFPRO Filters. Though both companies were new to the face mask business, they made it happen within a very short period.
Answering the call
As in many other countries, the Netherlands was confronted with a global shortage of personal protective equipment as COVID 19 spread across the continents. Called upon by the Dutch Minister of Health and Sports, a unique public/private consortium came to existence, with selected Dutch companies invited to join and serve a single purpose: the realization of large-scale, non-profit based production of health protection items within the country to help protect their healthcare workers. Without a second thought, both Low & Bonar and AFPRO Filters became part of this consortium and soon started to work on medical face masks together. Shouldering responsibility, both companies deliver at cost price. The consortium distributes the medical masks evenly or wherever the need in national healthcare institutions is greatest.
Fast lane development
"Although neither of us had ventured into face masks before, we could build on long-standing expertise within our fields and believed we could make it work," said Low & Bonar Business Development Manager Edgar Berkhout. "AFPRO Filters is a long-standing producer of filter systems, an industry we are very familiar with. We knowour product and production capabilities inside out and have many in-house testing facilities at our disposal. Thanks to that, and through our intensive collaboration, we were able to move fast."
The cooperation is much appreciated by both sides. Niels Berkhout, supply chain director at AFPRO Filters, said: "We felt an enormous urgency to turn this project into a success and found an equal dedication at Low & Bonar. We experienced a very high degree of flexibility among all involved: engineering, production, planning and deliveries. So much technical knowledge was made available to us and always at very short notice. Together we were able to overcome all the obstacles along the way."
Colback intermediate layer
Colback is a spunbond nonwoven. Its role in these FFP2-approved face mask is one of reinforcement. As an intermediate layer Colback provides the necessary sturdiness to the masks, keeping them in shape and place during wear. At the same time, Colback is very light-weight, thin and highly permeable which allows for easy breathing and improves user comfort. Customers benefit from Colback´s straightforward processing. Colback is very suitable for ultrasonic welding, among other things, and it cuts without any fraying or curling.
"Our main mission is to bring value to our customers. By tailoring our product and fine-tuning all its technical details to the exact needs of these face masks, adding value is exactly what we did. And in doing so, we are able to contribute in a non-profit manner to the current urgent needs of our society," Berkhout concluded.
Posted June 23, 2020
Source: Low & Bonar