Despite concerns, INDA hosted the most successful IDEA show to date.
By Jim Kaufmann, Contributing Editor
As the old proverb suggests, "When life gives you lemons, make lemonade." For INDA — the Association of the Nonwovens Fabrics Industry and organizer of the IDEA16 show held recently at Boston's Convention and Exhibition Center — this proverb became a rallying cry best exemplified by the refreshing lemonade served at INDA's booth. Throughout the show, INDA's booth was lemonade central, and was a comfortable place to meet up with colleagues or take a minute to relax and simply enjoy the lemonade.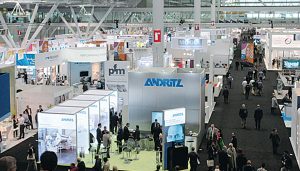 INDA has been covering the nonwovens industry since 1970. The association hosts the IDEA show every three years and the 2016 show originally was scheduled at its traditional venue in Miami. That is until the show's organizers were informed that Miami's exhibition hall was to be renovated and the show contract would be cancelled. After some scrambling, INDA created lemonade and found the Boston Convention Center, a well-appointed facility in an affable city, to hold the show. "This is a beautiful facility, open, airy and inviting" said Jeff Willis, owner, Nonwovens By Design. "And Boston is a good place to hold a show like this, just wish the weather was better." Terrible weather all week in Boston, yes, but the lemonade still flowed.
Final Show Numbers Point To Success
A competing trade show unfortunately was scheduled on these exact same dates in a different city. However, INDA created more lemonade in the form of record attendance numbers for both exhibitors and attendees alike. IDEA16's 555 exhibitors welcomed more than 7,000 attendees from more than 60 different countries during the three days of the show, an indication of the wide breadth of the nonwovens industry. Festivities kicked off Monday evening with a welcome reception held at Boston's House of Blues, which was sponsored by Velcro Companies. More than 700 people attended the reception, enjoying the southern-style cuisine and live music and, of course, lemonade."
The show itself was mostly heralded as a big success by participants. "It has been a fantastic show, well beyond our expectations," said John Schauer, global product manager, Nonwovens, Xerium Technologies Inc., Youngsville, N.C. "The folks who visited our booth knew what they wanted and the conversations they wanted to have. I'm not sure if it had to do with being in Boston, the weather, or what, but it's been very refreshing!"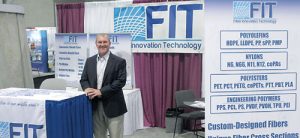 First time exhibitor, Chris Parris, research and development director, Johnson City, Tenn.-based Fiber Innovation Technology, felt the show was a great experience. "This is our first time exhibiting at IDEA and it's really been very positive," Parris said. "We've been able to talk with a wide array of folks about our products and capabilities which has been great. We're very pleased."
Alistair Deas, chairman, Allertex of America Inc., Cornelius, N.C., summed it up well by offering: "IDEA is the premiere show for the incredibly diverse nonwovens industry. We're having a very good show, which allows us to go forward through the rest of the year with a very positive attitude."
Conference Highlights, Achievement Awards
The IDEA Conference, which focused on the status of the global nonwovens industry, was held prior to the show floor's opening each day. Each morning's session focused on a different geographic area. Lemonade flowed because most of the numbers presented indicated a strong and growing global nonwovens industry. Production levels in most of Europe, North America and Asia remains healthy, though South America was off a bit because of Brazil's ongoing financial slump. According to INDA President Dave Rousse, North America in particular will have at least 14 new manufacturing lines added in 2015 and 2016, with nine or 10 of these installations taking place in the Carolinas. The common theme throughout the presentations was that nonwovens remains a strong growth industry that continues to be driven by technology and innovation.
During Wednesday's conference session, INDA also announced the IDEA16 Achievement Awards recipients. The awards, which recognized innovation throughout the industry in different categories, were presented to:
For Equipment — Hendersonville, Tenn.-based ITW Dynatec's Ultra™ Strand Coating System;
For Roll Goods — Switzerland-based Jacob Holm Group's SoftLite™ lightweight nonwovens;
For Raw Materials — Germany-based BASF SE's SAVIVA™ SAP Technology;
For Short Life Converted Products — Hong Kong-based WipeMeWorld's WipeMe® flushable wipe on a roll; and
For Long Life Converted Products — Northbrook. Ill.-based Impossible Objects LLC's composite-based additive manufacturing (CBAM) 3-D printed pieces.
The highlight of the awards ceremony was the presentation of IDEA16's Lifetime Achievement Award to Leo Cancio, an advisor for Clopay Plastic Products Co. Inc., Mason, Ohio.During his acceptance speech, Cancio summarized the continued success of the nonwovens industry when he said performance is what matters most. "The individual steps are just a means to an end and it's fine to change the choreography if this produces a better, more complete performance," he added.
Exhibitor Highlights
Several companies provided unique changes to the choreography including a first time blood drive sponsored by the Jacob Holm Group and daily recreational morning runs through Boston's historic areas hosted by Finland-based Suominen Corp. Tours of Boston's Fenway Park were also among the offerings.
Numerous changes in choreography were found throughout the show floor in the more traditional form of innovative offerings and facility expansions.
Charlotte-based DAK Americas, one of the largest North American producers of polyester resin and staple fiber, announced a new facility scheduled to come on line during the first quarter of 2017 in Mississippi. "This is representative of DAK's commitment to the nonwovens market segment," said Antonio Garza, DAK America's business director. "It will give us a broader reach and better logistics for our products as well as increasing our product range in North America."
Spartanburg, S.C.-based Auriga Polymers Inc., a division of Thailand-based Indorama Ventures, announced the addition of a new line at its Spartanburg facility, which will be on line by the end of the year.
Clopay Plastics announced a $50 million investment to expand its extrusion and printing capabilities in North America, while also introducing Sof-Flex® — a line of low base weight breathable products targeting hygiene markets.
Germany-based Freudenberg Group is finding commercial success with its inventive Evolon® microfiber technology, a unique blend of polyester and nylon that has been under development for a while, but is now gaining commercial interest and finding new applications because of its unique properties."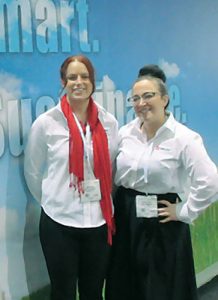 Velcro Companies' Becky Morel was excited for IDEA16 to be in Boston because it's close to Velcro's U.S.-based headquarters, and is "basically a home game for us." Velcro displayed its flex-zone™ hook and loop fastener technology, where softness is the key attribute allowing for a large assortment of end-uses and customized solutions."
Bostik Inc., Wauwatosa, Wis., used the show to introduced Brilliance™, a new high-performance olefin elastic attachment adhesive that will be available in October of this year. According to Bostik's Courtney Korselt: "We're excited for the formal introduction as this product has exceeded all expectations in our testing and trials. It simply works!"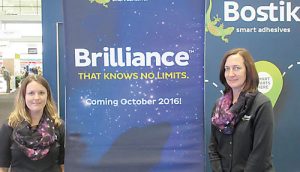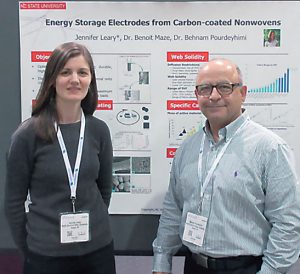 INDA offered floor space to The Nonwovens Institute (NWI) at North Carolina State University (NCSU) where 20 students were allowed to present poster sessions depicting their work. Behnam Pourdeyhimi, NWI's executive director, said INDA had been great to work with, but clarified that all of the papers presented were supported by NWI, but not all were from NCSU. Jennifer Leary, a Ph.D. student at NCSU, offered a uniquely different perspective on the IDEA show. "As a student this show has been valuable in illustrating the scope and breadth of nonwoven applications," said Leary. "It reminds us of why we're doing everything we're doing in the labs and classes. The conversations I've had are very encouraging in that there is industry interest in what we're doing and the exchange with others here is like a brainstorming session. It gives me a genuine feeling that there's a real creative spark and element to this industry."
And did I mention the lemonade?
July/August 2016