Rarely has an industry changed so much its basic structure as has the nonwovens industry. From
humble beginnings in the 1960s, with an endless list of machinery suppliers, it has become a
high-tech industry with sophisticated machinery suppliers. And, the machinery industry now offers a
portfolio with turnkey and complete production lines.
The list of companies that have acquired complementary suppliers is impressive. One of the
latest groups to move in this direction of providing complete solutions is Andritz AG, Austria,
whose Pulp & Paper Division has three daughter companies:
Andritz Küsters, Krefeld, Germany — producer of machines and technologies for the nonwovens and
technical textiles industry, including wetlaid nonwovens lines, deflection controlled calenders and
finishing equipment;
Andritz Perfojet, Montbonnot, France — engineer and manufacturer of nonwovens lines and
innovative solutions for spunlace, spunjet and through-air drying technologies; and
Andritz Asselin-Thibeau, Elbeuf, France — designer, builder and supplier of turnkey drylaid
nonwovens lines including cards, crosslappers, drafters and needle looms.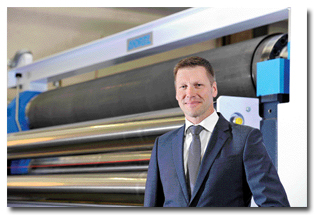 Andreas Lukas, senior vice president and division manager, KNB Division — Andritz's
Nonwoven and Plastic Film business



Complete Production Lines


Today, Andritz provides complete production lines for hygiene, household, filtration,
agriculture, construction, geotextiles, automotive and other applications. It also supplies
individual machines, rebuilds and modernization strategies, including in-house automation
solutions.

Textile World
talked to Andreas Lukas, senior vice president and division manager, KNB Division — Andritz's
Nonwoven and Plastic Film business — during the opening earlier this year of the company's new
technical laboratory line in Montbonnot. Lukas discussed the future of the group and the advantages
related to its recent acquisitions. "The main advantage of such a combination and network of
companies is to share technology," he said. "We can now supply nonwovens technologies from web
forming to finishing."

TW: But technology was certainly not the only reason for the acquisitions, was
it?
Lukas: No, the combined know-how of the three teams will bring us innovative
products and process improvements. This plan is in line with our company philosophy to stay near
the customer and create added value for his products.

TW: What are the targets of this combined array of companies?
Lukas: We take the best ideas from each company to build a strong entity.

TW: What is your experience in the markets so far after the acquisitions?
Lukas: The reactions from customers and the markets are positive. Some even say
that there is no difference between now and then.

TW: Have you registered any success since the acquisitions?
Lukas: Since Perfojet and Asselin-Thibeau became group members, we have increased
our market share.

New Pilot Line


The new technical center in Montbonnot is committed to high-performance spunlace production
and is equipped with the latest carding, hydroentanglement, dewatering, impregnation, low add-on,
and drying technology innovations. The opening and blending section comes from France-based Laroche
S.A., and can process any type of fiber.

TW: What is the purpose of the new pilot line?
Lukas: We want to be state-of-the-art. With the acquisition of Asselin-Thibeau, we
have the possibility to become a major player in the nonwovens sector. Especially, the new Isoweb
TT card will play an important role. The card is designed for a wide range of products and has an
output capacity of up to 700 kilograms per hour (kg/hr) with a machine direction:cross direction
(MD:CD) ratio of 1.5:3.5. The pilot line was designed to meet the highest demands of the spunlace
market and will support our customers in their research, and product and process development. The
Jetlace hydroentanglement unit is equipped with patented injectors that generate high-quality water
jets for highest performance up to 400 bars water pressure. The Perfodry 3000 through-air dryer
provides efficient moisture removal — up to 1,000 kg/hr at high throughput speeds and with low
energy consumption.
The configuration of this high-performance pilot line will give Andritz customers the
opportunity to produce webs from 18 to 500 grams per square meter with an operational speed of up
to 400 meters per minute.

Market Situation



TW: How do you see the current market situation?
Lukas: The year 2013 is a challenge. On the one hand, spunbonds and also
geotextiles made of spunlaced fabrics have considerable overcapacities. Needlepunched material is
in a better position — new automotive and filtration applications are the driver here. Spunlace for
wipes has still some room for new products and growth potential — we are looking optimistically
into the future.

TW: What is your top seller?
Lukas: The new card is showing astonishing success. The reasons for that are the
performance to produce a lighter-weight web with good mechanical properties, easy handling and a
short payback.

TW: Which market is more important for you — Europe or Asia?
Lukas: Europe is still very important for us if it's about high-tech products.
Many ideas for new products and processes are born in Europe. For more mass-market-oriented
products, it's definitely Asia.

TW: What percentage of your production do you export, and what are your most
important export markets?
Lukas: In 2012, it was 100 percent for Perfojet and 90 percent for Küsters and
Asselin-Thibeau. China is important, but so are India and Turkey.

A Look Ahead



TW: Let's take a look into the crystal ball: Will the export share of your group
further increase?
Lukas: I don't think so.

TW: How do you see the future in the Asia-Pacific Rim?
Lukas: We don't think the Chinese market will further grow at the same speed.
However, it will remain on a very high level. On the other hand, markets like Indonesia and Vietnam
will become more important. And we think this is the case for all sectors of the nonwovens/textile
industry.

Aims And Targets



TW: What will be the key points of your activities in the next few years ?
Lukas: Our main focus is the development of new technologies and new products. We
are looking first for better power efficiency and a reduction of process costs over the whole
production process.

TW: How will you reach these goals?
Lukas: Proximity to the customers is the main issue. We must also further adapt
the characteristics of the countries in which we are working. We want to understand every customer
to fulfill his requirements in the best way. That's why we opened a new Service Center in Wuxi,
China.

TW: What do you see going forward?
Lukas: We see trends toward biodegradability and even more flexible production,
which will raise costs. Also, the recycling of used fibers and fabrics will be an issue. Regarding
fibers, polypropylene, polyester and different types of man-made cellulosic fibers will be on top
of the list.

TW: What do you expect from this assembly of companies for the future?
Lukas: We expect higher performance. If three companies join their power and
know-how into one unit, this should culminate in better performance and a better market position.

TW: Do you plan other acquisitions?
Lukas: We do not acquire a company to show growth, but only to strengthen and
enhance our portfolio. Thus, it could happen, but it's not a necessity.
September/October 2013