John S. Saunders is a co-founder and senior partner at USA SHADE & Fabric Structures Inc.,
Dallas, and currently serves as the company's president and CEO. Saunders has more than 20 years'
experience in the fabric structure industry. He is a native South African and received his Bachelor
of Commerce degree from the University of Cape Town, South Africa. He is married and has two
children, and currently resides in the Dallas area.

Textile World: When was your company formed?
Saunders: USA SHADE & Fabric Structures Inc. began in 2004. It was actually a
coming together of four independent companies: Sun Ports; Shade Structures; FabriTec Structures;
and Vehicle Protection Structures (VPS). Each is now a brand of USA SHADE & Fabric Structures
Inc.

TW: What's the scope of your activities?
Saunders: We provide shade and architectural fabric structures for a wide variety
of markets and applications. Our modular products are used primarily to provide shade and weather
protection for schools, parks and recreation facilities. Our tensile membranes also provide shade,
but clients for these types of custom structures are often looking for an iconic structure that can
give a facility a unique look; these are used for stadiums, amphitheaters and transportation
facilities, to name a few. Through our four brands, we have now produced more than 250,000
structures, primarily in the United States.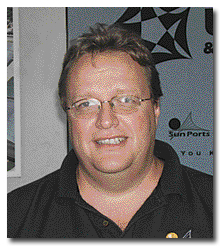 John S. Saunders, CEO, USA SHADE & Fabric Structures Inc.

TW: As I understand, you market the Sun Ports and Shade Structures brands to
markets that include schools and day care centers, amphitheaters, water parks, zoos, aquatic
facilities, parking areas and sports facilities. Can you tell us more about these markets for shade
products? What are the market drivers?
Saunders: Yes, Sun Ports and Shade Structures offer essentially the same product,
but to different areas. Shade Structures sells exclusively in the state of California, while Sun
Ports covers the rest of the country. Both brands manufacture modular fabric structures that focus
on protecting children through the shade provided at locations such as school, day care, parks and
recreation, and community facilities. These structures utilize fabrics that can block out up to 96
percent of the sun's harmful ultraviolet rays and help prevent sunburn, heatstroke and skin cancer.
They can also preserve and extend the life of recreational and sports equipment. Shade Structures
largely focuses on supplying shade products for the school systems in California. In fact,
California, Nevada and Arizona all now have requirements to provide shade in public locations; and
that list of states should expand in the near future. Shade Structures was actually the first to
have a fabric product approved by the California Division of the State Architect (DSA) and now
offers more DSA-approved structures than any other shade provider in the state. There are many
other applications for fabric structures beyond parks and recreation. Military applications, for
example, include training facilities, ordnance storage areas, tank shade and shooting ranges on
bases.

TW: What types of fabrics do you use in your shade products?
Saunders: We use a high-density polyethylene (HDPE) knitted mesh supplied by
Multiknit (Pty) Ltd. in South Africa for shade applications. When you think of shade, you may think
of traditional applications like residential and commercial awnings. But we've taken the
applications further. Our lightweight materials and easy installation allow large areas to be
covered at much less cost. Traditional canvas awnings use heavier materials that trap heat and do
not allow airflow like a knitted mesh does; hence, the traditional awning material requires
additional support framing for stability and strength, and this means higher costs. The breathable
mesh fabrics we utilize can provide a reduction in temperature by as much as 30 percent underneath
the structures. Wood, canvas or steel structures simply cannot do that.

TW: Are you focused mostly in the southern U.S.?
Saunders: That was our original geographic scope. We were filling a unique need in
the region, which frequently experiences harsh sun and hail. But we have gradually expanded into
the middle U.S. and also have a number of projects in areas more to the north such as the Cedar
Point Amusement Park in Sandusky, Ohio, and County Farm Park in Ann Arbor, Mich., which
significantly spiced up its facility with our custom butterfly and flower structures.

TW: Can you tell us a little about the Vehicle Protection Structures brand?
Saunders: Our focus with this brand is more equal protection from both hail and
sun, primarily for the auto industry. Hailstorms can result in devastating damage. Many people don't
realize, for example, that a good-sized hailstone traveling 100 to 120 miles per hour can have the
same effect on vehicle windows and bodies as a sledgehammer swung at full force. VPS customers are
car dealerships, rooftop and large-area commercial parking facilities, and automotive manufacturers
that have a high concentration of stored cars. We also provide structures to protect boats,
recreational vehicles, construction equipment and other products in situations where there is a lot
of product in a confined, open storage area.

TW: What are the market drivers in the VPS segment?
Saunders: The primary market driver, naturally, is the state of manufacturing. If
people are buying cars, the need grows to cover the inventory. Aesthetics also enter into the
equation when you consider the value added to the facility. Shade comfort is another benefit when
making buying decisions. An asphalt car lot is a hot place to be when you are looking at purchasing
a vehicle. Provide a shady place, and people will look at the car longer.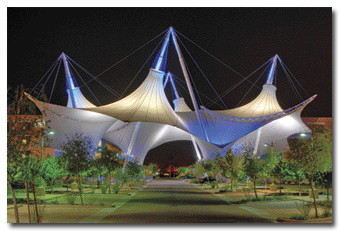 ASU SkySong, a mixed-use project including office, research and retail space, has as its
centerpiece a custom tensile fabric structure supplied by FabriTec Structures in conjunction with
FTL Design Engineering Studio, New York City, and Higgins Development Partners, Chicago. The frame
consists of eight steel structures that support integrated conical-shaped pieces covered with
Teflon®-coated fiberglass fabric that can withstand 650 pounds of force per square inch.


TW: Tell us a little about FabriTec and how its products relate to shade.
Saunders: FabriTec is the brand within USA SHADE that manufactures larger tensile
membrane structures. These applications frequently use heavier-weight fabrics like polyvinyl
chloride and polytetrafluoroethylene (PTFE) and, like most large structures, they are designed
primarily to protect the user against harsh, inclement weather and cold. However, the tension
structure at ASU SkySong at Arizona State University (ASU) in Scottsdale, Ariz., was designed with
the goal to provide both shade and water collection. It uses 45,000 square meters of PTFE membrane
and features unique inverted cones at the base of the structure that collect rainwater. FabriTec
has really done some amazing projects over the years, such as the cloud-like structures at the
entrance of the Lone Butte Casino in Chandler, Ariz., the seven majestic canopies at the Rosa Parks
Transit Center in Detroit, Mich., and, recently, the massive San Diego International Airport
project in California. These structures really showcase what can be achieved utilizing fabric in
architecture, and our team of designers has really raised the bar in terms of imagination and
innovation.

TW: What's the outlook for USA SHADE & Fabric Structures?
Saunders: The outlook is good. I'm very bullish on the future. We had a few lean
years with budget cuts in the schools, government and private industry; and also the slump in
automotive sales. However, as the economy has improved, we have seen these markets rebound. There
is a demand for protection from the effects of weather and the sun. Health concerns for children
are certainly a major driver. We've barely scratched the surface of the market penetration.
---
Editor's note: Stephen M. Warner, Arden Hills, Minn., is publisher of BeaverLake6 Report,
beaverlake6.com, a Web-based newsletter reporting on trends, data and issues that he feels
influence the technical textiles industry. He also is former president and CEO of Industrial
Fabrics Association International.
---
July/August 2013