M

ore and more, producers of standard textiles are looking for alternatives. Technical
textiles, including industrial fabrics, are virtually the key to any new application. One of the
most interesting end-uses is fabrics for building — so-called roofing membranes installed instead
of gravel, bitumen sheets or concrete. However, the key to success lies not in the production of
the membrane, but in communication about its advantages.
Since the mid-1960s, industrial fabrics have made rapid advances. The use of fabrics, knits
or nonwovens instead of classic building materials is steadily increasing. The greatest market
suppliers in this area are already organized on the basis of separate business areas. In Germany,
technical textiles' share of total textile sales currently stands at more than 40 percent.
Suppliers of industrial fabrics are looking to purchase not upstream machinery, but product
solutions. Consequently, a decisive change has occurred in buying behavior. With the steady
improvement in textile systems, the appetite of the users also has grown. Accordingly, in certain
cases, market pressure has already exceeded the development speed of new, mature technologies and
products.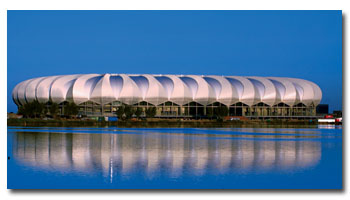 The Nelson Mandela Bay Stadium, built in the Eastern Cape Province of South Africa for the 2010
FIFA World Cup™, features a membrane roofing system designed and built by Birdair Inc. Photo
courtesy of Birdair Inc.

Information Flow


Construction using textiles is one of the oldest architectonic forms in human history.
Today, because of their outstanding economic and ecological advantages, textile constructions are
an indispensable element of modern architecture. The physical principles involved in the
development of architectural fabrics concern the resistance of the fabric to external weather
forces such as wind and snow, and call for the lowest possible tension, expansion and resulting
membrane curvature in the finished structure. For this reason, textile roofing design represents a
very large and special challenge to engineers, and, as a consequence, membrane constructions
represent an innovative opportunity not only in modern architecture but also for the related
textile production sectors.
It is particularly important, therefore, to communicate in terms of the end product and not
in terms of machinery used. As an example of collaborating to produce a modern membrane roof for a
sports stadium, the involved parties are the fiber producer, yarn producer, weaver, finisher,
fabricator, contractor and stadium owner.
A successful job can be achieved only if the owner and the architect know that a membrane,
and not concrete, is the ideal material for the roof covering. The challenge is to inform all
participating parties of the possibilities of industrial fabrics.
The technologies and techniques for producing fibers, yarns and fabrics, and their further
processing into industrial fabrics must be communicated. The biggest obstacle in all production
stages is the enormous variety of application fields, which must be communicated. How should the
stadium proprietor or the general contractor know that there are textile producers, rather than
suppliers of bricks or concrete, that could be the right partners?

Simple, But Efficient Construction


Making-up, or fabrication, is a very important part of the production chain. Only
first-class work is acceptable for the job. The sewing machine is just one possible tool. Today,
more and more products that are exposed to sunshine and weather are bonded using ultrasonic
technology, assuring a 100-percent waterproof seam on the final roof or membrane.
"Simplify your life." This megatrend of the future can also offer a major opportunity for
the textile industry. There is much more flexibility in the design, construction and shape of a
stadium or other roof when using a textile product instead of heavy concrete and steel. There are
endless possibilities for membranes, including carports; covers for public areas such as garages,
gas stations or airports; sport stadiums; buildings; signs and displays; and shopping centers;
among other possibilities.

Innovative Membrane Roofing


A roof membrane that is installed over flat and shingled roofs provides added protection,
insulation, and sound-deadening features. Thermoset, thermoplastic, or modified bitumen membrane
roofing materials are suitable for such an application.
Thermoset membranes are chemically crosslinked. Thermoplastic membranes are similar to
thermosets, but instead of chemical crosslinking or even vulcanization, the seams are welded
together with solvents or heat.
Membranes made with man-made materials such as polyvinylchloride (PVC) or glass fibers are
most commonly used. In the United States, of all membrane roofing materials, the PVC roof membrane
has the longest history of use, and today is estimated to account for some 10 percent of all
membrane roofing. PVC products are highly resistant to punctures and impacts; and offer flame
resistance, leak prevention, durability, ultraviolet (UV) reflection, and flexibility at low
temperatures as well as high-temperature tolerance. They are also very popular thanks to their
attractive look and appeal.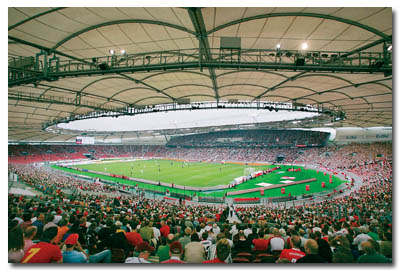 The roof of the Mercedes-Benz Arena in Stuttgart, Germany, is formed by membrane sections
attached to a steel frame.

Advantages


The advantages of using membranes instead of other building materials are self-evident:
Membrane roofing replaces gravel; and the roofs have extreme tensile strength and are easy to
handle on account of their light weight and flexibility. Even airports, such as the Hong Kong
International Airport, are covered with membrane roofs, despite threats from typhoons or other
adverse weather. As with every new application, the ingenuity of the construction engineers is
quite necessary. If damage ever occurs, these roofs are easy to repair or even replace, which is
not the case with traditional roofs.
One of the first stadiums in Europe to be covered with roof membranes is the Mercedes-Benz
Arena in Stuttgart, Germany. The stadium was originally built in 1933, and the membrane roof was
added in the early 1990s.
Another famous stadium is the 50,000-seat Nelson Mandela Bay Stadium in the Eastern Cape
Province of South Africa, built for the Fédération Internationale de Football Association's
(FIFA's) 2010 FIFA World Cup™. Amherst, N.Y.-based Birdair Inc., a contractor of lightweight
long-span roofing systems and tensile structures, built the roof for this and two other World Cup
stadiums in South Africa. The Nelson Mandela Bay stadium roof contains some 230,000 square feet of
polytetrafluoroethylene (PTFE)-coated fiberglass fabric membrane. The roof's cable system forms
what Birdair describes as "valleys" that help drain rainwater from the roof as well as protect
spectators from the elements. In addition, 36 aluminum-clad cantilevering trusses measuring 150
feet in length and weighing 60 metric tons each support the edges of the membrane panels.

Finishing


Architectural fabric finishers must have extremely good knowledge of the material to be
processed. How does it react to sunshine, wind and rain? What bonding method or materials, such as
sealing strips or other materials, can be used? Appropriate finishing can make a fairly simply
manufactured fabric into a high-performance product. Finishing also incorporates coating and
lamination. Knowledge of the finishing processes employed is extremely important to downstream
production, as finishing generally has a direct link to the properties of the finished article,
especially for roof membranes.
Textiles can also protect against UV rays and electrosmog. Such products also include
steam-permeable textiles and water-repellent textiles.
Another promising possibility for architectural textiles exists in the form of coatings with
inorganic oxides such as silicon dioxide. Inorganic oxide layers can be transferred from the gas
phase to textiles using a variety of vacuum technology processes. A possible alternative is also
provided by sol-gel technology.
March/April 2011