T

he major difference between traditional and technical textiles markets is obvious.
Traditional textiles are marketed mainly in terms of style, appearance and quality. Technical
textiles are tailor-made to meet specific requirements related to end-product applications. Many
technical products are innovation-driven and demand constant research and development based on
awareness of customer requirements — requirements that are prerequisites for a successful position
in the marketplace.
New developments in technology can spur opportunities to better meet the technical demands of
specialty textile products. Expositions like the upcoming IFAI Expo in San Diego and the recent
Techtextil in Frankfurt offer significant opportunities to see the latest innovations. Following
are some quick observations of innovative technologies shown at Techtextil.

Filament Twisting, Cabling And Assembling


With the increasing significance of industrial textile applications, man-made fiber
processing has gained importance, requiring flexibility, market knowledge and creativity.
Processing machinery offered by France-based RITM includes: the Universal Twister & Cabler
(UTC) 60, said to enable either two-for-one yarn twisting or direct yarn cabling — a flexible
winding system that enables the user to build the bobbin either in a cross-wound package or by
precision winding and also to define the winding stroke; and the UTW 30, which allows a one-step
assembling and twisting process to produce cabled cord, using individual positions and
state-of-the-art drives for maximum flexibility.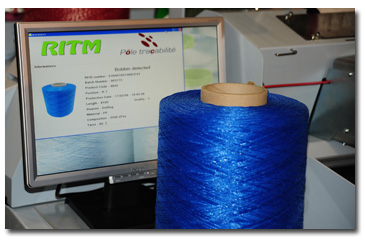 RITM's Universal Twister & Cabler 60 includes

an online tracking feature based on

radio frequency identification technology,

enabling tracking of each bobbin during the entire production process.

System Supplier


Groz-Beckert KG, Germany, offers a broad range of needles and other products for knitting,
weaving, felting and sewing. Its litespeed® and compound needles for knitting machines are used
more and more in the technical field. For processing carbon, glass and high-strength fibers as well
as copper, silver and steel wire, the compound needle appears to be indispensable. The SAN® 5
sewing needle was developed to eliminate problems such as needle deflection, stitch hole sticking
and irregular seam appearance related to processing technical materials. The Gebeswitch® enables
quick changeover of needle size on medium-duty lockstitch machines to adjust to the material being
processed, providing constant scarf/hook orientation by displacement of the needle axis over a Nm
80 to Nm 200 size range.

Open-Shed Weaving Technology


New open-shed weaving technology developments for Germany-based Lindauer Dornier GmbH's
rapier machines are said to optimize fabric quality — including the quality of technical fabrics
woven with aramid, carbon and glass — as well as to minimize waste and maximize production speed.
Dornier reports the machine's positive controlled rapier head can process virtually any material
that can be wound on a bobbin, from 0.012-millimeter wire or 11-decitex monofilament up to
50,000-filament carbon or Nm 0.5 bulk continuous filament yarn, with a single filling or with
five-fold multiple filling insertion, in single-layer up to eight-layer fabrics.

Weft Insertion Technology


Itema (Switzerland) Ltd.'s Sulzer Textil™ brand offers rapier, air-jet and projectile weft
insertion systems on its various weaving machines, along with special equipment to meet every
requirement. Under the company's Customized Weaving Technology program, it will tailor-make
machines up to 655 centimeters wide to produce special fabrics such as agrotextiles and
geotextiles, conveyor belts, sailcloth, cinema and theatre screens, filtering fabrics, tarpaulins,
and wire fabrics.

Filament Hydroentanglement


France-based Rieter Perfojet's Spunjet® in-line filament hydroentanglement process was
developed for nonwovens producers seeking opportunities in new markets such as geotextiles, roofing
or artificial leather. Spunjet is claimed to combine spunbond strength and spunlace softness; and
offers additional fabric properties with regard to softness, drape, tensile strength and isotropic
machine direction:cross direction (MD:CD) ratio.

Lyocell Nonwovens


Cellulose fiber and polymer producer Lenzing Group, Austria, and softwood market pulp
producer Weyerhaeuser, Federal Way, Wash., have commissioned a pilot plant in Lenzing to explore
the commercial potential of TencelWeb™ technology to produce nonwovens directly from lyocell for
industrial and personal care products. TencelWeb offers an alternative to petroleum-based nonwovens
by applying both meltblown and spunbond technology to wood-fiber-based raw materials.

Direct Coating


Dry finishing systems supplier Brückner Trockentechnik GmbH & Co. KG, Germany, and
printing systems solutions supplier Stork Prints BV, the Netherlands, have developed a
patent-pending technology for direct coating of elastic knitted fabric. The process is an
alternative to traditional indirect transfer coating, in which the coating substance is first
applied on a dimensionally stable carrier material on which the fabric is then laid and dried,
followed by separation of the substrates. The new system features a rotary printing screen
integrated in the tenter's entry zone; fabric centering in front of the introduction to the coating
unit; a very short fabric path between the coating unit and the pin-on point at the tenter;
tension-controlled fabric transport; selective fabric width and length heat-setting using a tenter
with optional fabric support belt; and Stork Prints' flexible foam processor, which also can be
used for paste processing.

Calender Technology


Calender roll producer Andritz Küsters GmbH, Germany, offers a MycroCoat micron-precision
fixed comma doctor blade for web coating or finishing. The blade's deflection control facilitates a
precisely defined nip against the optimally bedded counter roll.

Andritz Küsters' teXcal s-roll calender has a maximum line force of 400 Newtons per
millimeter. Featuring deflection control and adapted surface technology, the roll can be used to
process special applications — such as parachute silk and high-tech outdoor clothing, which require
a defined low air permeability — with optimal compaction results in one passage.
The company's neXline® wetlaid technology offers solutions for manufacturing niche products
made with aramid, carbon, microglass and other high-tech fibers.

Silicone Technologies


Silicone products supplier Dow Corning Corp., Midland, Mich., launched DS-9000 Eco Repel, a
technology co-developed with Belgium-based niche chemicals manufacturer Devan Chemicals that
enhances softness and hydrophobicity on flame-retardant (FR) finishes without affecting a fabric's
FR properties. The eco-friendly, fluorocarbon-compatible, formaldehyde-free product is made using a
low-surfactant formula, and its silica shell encapsulated silicone fluid construction makes it
suitable for multifunctional formulations. End-use applications include mattress ticking, tenting,
canvas, upholstery and protective clothing.
Two new technology platforms for Dow Corning's demand-activated, impact-resistant Active
Protection System for fabrics are also available: the S-Range, building on first-generation 3-D
spacer technology but lighter-weight with optimized silicone for maximized impact protection and
offering improved washability; and the TP-Range, featuring thermoplastic technology. Both offer
improved comfort and aesthetics over the original technology and comply with a range of
international impact-protection standards. Applications include high-performance sports apparel and
equipment; body armor; sport, medical and military base-layer garments; other military
applications; and personal possessions protection.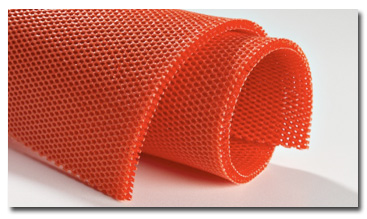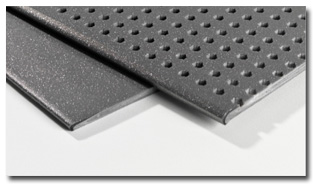 Top: Dow Corning's Active Protection System S-Range

impact-resistant fabric features 3-D spacer technology.

Bottom: The TP-Range fabric features thermoplastic technology.

Textile DNA


Product piracy is a global problem, and a number of authentication technologies are available
or in development. Textile technology developer Schoeller Technologies AG, Switzerland, reports its
DNAtex technology gives a product a "unique ID" that is recognized immediately when the article is
electronically scanned. Schoeller claims every element in the textile production chain, from
chemicals to fibers to fabrics to finished products, can apply the technology.
July/August 2009