T

he Association of the Nonwoven Fabrics Industry (INDA), Cary, N.C., will entice nonwovens
and technical textiles professionals from around the world to Miami Beach, Fla., in late April for
three days of programs, exhibits and associated events as part of its triennial IDEA International
Engineered Fabrics Conference & Expo. IDEA07 will be held Tuesday through Thursday, April
24-26, at the Miami Beach Convention Center, which also was the venue for IDEA01 and IDEA04.
The conference and expo are expected
to attract 7,000 visitors from more than 60 countries — one-third of IDEA's attendees come from
outside the United States, according to INDA. These visitors represent such markets as
construction, geotextiles, transportation, industrial protective apparel, filtration, healthcare,
hygiene, sorbents, wipes, home furnishings and consumer products.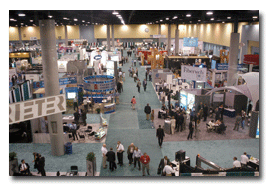 More than 350 exhibitors have already
registered as of

Textile World
's press time. Exhibitors include manufacturers and suppliers of raw materials,
engineered fabrics and fibers, machinery and equipment, chemicals and auxiliary products;
converters; associations, schools and research centers; publications; and other goods and services.
According to INDA, the exhibit floor space is nearly sold out owing to a combination of
reservations for larger booths by returning exhibitors, first-time exhibitors and increased numbers
of international exhibitors — some 40 percent will come from outside the United States. Organizers
say IDEA07 will be one of the largest events ever for the US nonwovens/ engineered fabrics sector.
INDA points out that with the complete engineered fabrics supply chain represented, IDEA07
will provide exhibitors with a cost-effective and efficient opportunity to meet with their
customers, and vice-versa — as well as to see what their competition is up to.
The registration fee structure for this year's IDEA has been simplified to include admission
to both the conference and the expo for one fee. Separate tickets must be purchased to attend the
welcoming reception, which will kick off the event Monday evening, April 23, from 6:00 until 8:00
p.m., at the Loews Miami Beach Hotel.
Peggy Blake, marketing director, INDA, said hotel rooms reserved for the event are going
quickly, and INDA is busy searching for additional hotel rooms to offer exhibitors and attendees. "
That's a good indication attendance is going to be extremely strong," she said.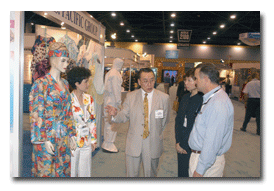 The range of nonwoven end-product possibilities includes printed apparel.


Conference Agenda


The conference portion of IDEA07 is
scheduled each morning from 8:30 until 10:30 a.m. The program has been reformatted and will
highlight three areas of interest to the engineered fabrics sector:
• Tuesday, April 24 — India: The current situation and the potential in the emerging
nonwovens and textiles market in India will be covered by Saumitra Chaudhuri, chief economist,
ICRA, India; and J.N. Singh, Ph.D., textile commissioner, Indian Textile Ministry. Chaudhuri will
speak on "India as an Economic Power — Prospects for Growth"; and Singh will discuss "Developments
in India's Technical Textile Industry."
• Wednesday, April 25 — Energy: Dennis J. Stanley, chemicals energy planning advisor,
ExxonMobil Chemical Co., Houston, will present "Analyzing Energy Costs for Savings"; and Bob
Bazemore, vice president, regulated fuels department, Progress Energy, Raleigh, N.C., will present
a paper on "Cost of Fuels: Impact of Market Forces, Trends, Strategies."
• Thursday, April 26 — Innovation: Paul Mugge, director of the Center of Innovation
Management Studies, North Carolina State University, Raleigh, will speak on "The Case for
Innovation Management — Return to Profitable Growth"; and Stuart L. Hart, Ph.D., S.C. Johnson Chair
of Sustainable Global Enterprise and professor of management, Cornell University, Ithaca, N.Y.,
will discuss "Driving Innovation from the Base of the Pyramid."
Wednesday's program also will include the presentation of the IDEA07 Achievement Awards,
sponsored by INDA and Nonwovens Industry magazine. Awards will be presented in five categories to
recognize engineered fabric product and machinery innovations introduced since IDEA04. Blake said a
record 92 nominations were received for the awards. Of those products nominated, 15 have been
chosen as finalists (See sidebar). Industry members are invited to choose the winners by voting
online at www.idea07.com.
In addition to the five product awards, IDEA07 Lifetime Achievement Awards will be presented
to two individuals who have contributed significantly to the nonwovens business. Former INDA
Chairperson Lee Sullivan is being recognized for contributions made during a career that spanned
more than 27 years in the nonwovens industry, including 20 years at Freudenberg Nonwovens.
Professor Emeritus Edward Vaughn, Ph.D., at the Clemson University School of Materials Science and
Engineering, is being honored for contributions that include his stewardship for 34 years of the
annual Clemson Nonwoven Fabrics Forum and his development of a number of patented nonwovens and
fiber technologies.
An IDEA07 Entrepreneur Award will be presented to a company established since IDEA04.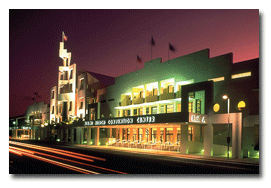 The Miami Beach Convention Center has been the venue for IDEA since 2001.



Expo Offerings



Immediately following the daily
conference programs, the exhibit floor will be open until 6:00 p.m. Tuesday and Wednesday, and
until 3:30 p.m. Thursday.


In 2004, IDEA added 24 technical textiles exhibitors to the offerings on the exhibit floor,
thereby increasing the number of buyers attending the show by several hundred. The success of that
addition prompted INDA to expand its technical textiles coverage in IDEA07.
To highlight new products and technologies, IDEA07 has added a Product Showcase, a specially
designated area on the exhibit floor where exhibitors may schedule 15-minute presentations of their
new offerings between 11:30 a.m. and 5:30 p.m. Tuesday and Wednesday, and between 11:30 a.m. and
2:00 p.m. Thursday. Following a presentation, interested customers may visit the company's booth to
learn more about the featured product.
---


Fifteen Finalists Vie For IDEA07 Achievement Awards



The IDEA07 Achievement Awards,
sponsored by INDA and Nonwovens Industry magazine, will recognize outstanding innovations
introduced since IDEA04 in five categories. Award winners, chosen from among the finalists listed
below, will be announced during the expo.


Short-Life End Product
Kimberly-Clark, Dallas: Huggies® Pull-Ups® with Cool Alert™
Procter and Gamble, Cincinnati: Swiffer® Deep Ridges
WIP (Wellness Innovation Project) S.r.l., Italy: Love'N Sanitary Napkin/Panty Liner,
Baby/Feminine Care Wipes
Long-Life End Product

APC Filtration Inc., Canada: HEPA Membrane Filters made with DuPont™ Teflon®

Shaw Innovation Flooring Systems, Dalton, Ga.: EcoLogix™ Carpet Cushioning System

Filtration Group, Joliet, Ill.: GeoPleat Air Filter
Roll Goods

CEREX Advanced Fabrics Inc., Cantonment, Fla.: SpectraMax™

DuPont, Wilmington, Del.: Hybrid Membrane Technology

Owens Corning, Toledo, Ohio: Coated glass fiber-based nonwoven
Raw Materials

Celanese Corp., Dallas: Dur-O-Set® Elite Ultra binder technology

DuPont: Sorona® polymer

Wellman Inc., Fort Mill, S.C.: Fortrel® Wellcare ADM
Machinery/Equipment

Dienes Corp., Spencer, Mass.: Quik-Set Automatic Positioning Systems

Foster Needle Co. Inc., Manitowoc, Wis.: Twin Crown Needle

S&S Specialty Systems Inc., Iron River, Wis.: Cheetah Folders


For more information about IDEA07, contact INDA (919) 233-1210; fax (919) 233-1282;
www.idea07.com.
---


March/April 2007