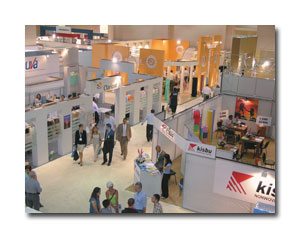 Hightex 2005 attracted visitors from Eastern Europe, the Middle and Near East, and North
Africa.


T
he
premiere edition of the Istanbul
International Technical Textiles and Nonwoven Trade Fair (Hightex 2005) recently was held at the
new Istanbul World Trade Center. Organized by Turkey-based Teknik Ltd., the show attracted 250
exhibitors — 130 of them from abroad — and almost 9,000 visitors from 50 countries — including
7,507 from Turkey and 1,413 from such regions as Eastern Europe, the Middle and Near East, and
North Africa, among others. The large number of Turkish visitors from 59 different cities was
evidence of the local demand for information about these growing sectors.
Many attendees said this event was the right place for people who are participating in the
conventional textiles sector but are seeking alternative ways to invest.

A Growing Sector


Nonwovens and technical textiles used
globally in diverse applications such as health care, construction, automotive, apparel,
agriculture and packaging — many of which have impressive growth rates — drew the interest of
visitors.
According to organizers, when increasing competition in the nonwovens and technical textiles
sectors is considered, the quality of exhibitors and visitors at Hightex clearly proved Turkey can
become an important producer and market for these sectors.
Regarded as an indication of movement in Turkey from traditional textiles towards technical
textiles — production in which high technology is utilized — the exhibition was perceived by both
exhibitors and visitors as a good opportunity to increase awareness of the nonwovens sector, share
information, improve trade in world nonwovens markets and increase profitability.

Advanced Technology


"There are entrepreneurs in Turkey
who participate in industry with this technology," said Necip Güney, sales and marketing director,
Teknik Ltd. "They recycle the waste bottles and garment waste and, after processing, they provide
them to the textile and garment industry. We have gathered these native industrialists with the
leading foreign technology and industry giants in our exhibition.
"Our aim was to join the nonwoven and technical textiles sectors, which are developing
rapidly and becoming the focus of investment, with the technology developers in America, Europe and
other centers all over the world. We believe that new opportunities and new customers will emerge
in this, the world's fastest-developing market," Güney added.
Ümit Vural, director of operations, Teknik Ltd., said Teknik is very proud of organizing
Hightex 2005 following the International Textile Machinery Exhibition (ITM), held last year in
Istanbul, which he said is among the most important and largest international exhibitions in the
world. He added that having exhibitors at this global level makes Hightex even more essential.




Hightex Activities


The 2nd International Technical
Textiles Congress, held concurrently with Hightex with the cooperation of the Dokuz Eylül
University Textile Engineering Department, brought together foreign and local researchers and
companies working in the field.
The congress aimed to guide textile industrialists currently producing or planning to
produce in this field. "Smart" clothes; high-performance fibers; packaging, industrial, protective
and automotive textiles; as well as filtration, were discussed.
The Innovation Relay Center-Ege held a series of Cooperation and Technology Relay meetings
during the show in an effort to bring together machinery manufacturers, customers and partners in
the European Union.
The Hightex 2005 opening ceremony featured Turkish government officials and leading textile
representatives.



Future Events


Turkey is of growing interest as an
exhibition site, as it links Europe and Asia, providing access to strong markets in Turkey, Iran,
Syria and surrounding regions.
Hightex organizers continue to make a diligent effort to promote Istanbul as an attractive
location for textile exhibitions — one that offers good value to exhibitors and visitors alike and
an opportunity to participate in a growing market.
Hightex will be held every other year, with the next show scheduled for 2007. The next
edition of ITM will take place June 27 through July 2, 2006, at the CNR Expo Fair and Congress
Centre in Istanbul.



October 2005