Impreglon USA, Fairburn, Ga., reports its new UltraCombo ultra-light idler rolls offer a very
cost-effective yet durable alternative to conventional carbon-fiber composite or thin-walled
aluminum rolls used in nonwovens and other manufacturing processes. According to the company, the
UltraCombo is so economical that it can be disposed of at the end of its useful life, eliminating
the need for costly and time-consuming reprocessing associated with conventional rolls.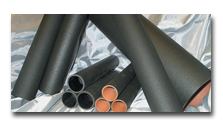 UltraCombo idler rolls are now available from Impreglon USA.
The UltraCombo idler rolls are coated with Impreglon's PlasmaCoat 60531/4001F to provide maximum
non-stick and traction properties, or they may be specially coated to a customer's specifications
for a particular application. Other features include light weight that provides low inertia,
strength comparable to conventional rolls and a production speed capability of 3,000 feet per
minute. In addition, roll inventory programs may be specified in order to reduce the manufacturer's
downtime.
February 2005