V2 Composite Reinforcements Inc., Auburn, Ala., recently introduced V-Lock, a patented non-run
stitch technology that reduces runs in non-crimp multiaxial fabrics. Colin Hallam, vice president,
product management, said the V-Lock process welds the ascending stitches together on the loop side
of the fabric only. The stitch medium remains polyester and thus eliminates contamination from
off-gassing during the lamination/cross-linking process.Hallam added that the technology also makes
it possible for fabrics to be bonded using a looser stitch. The company sees V-Lock applications in
the infrastructure, construction, aerospace, automotive and marine industries, among others.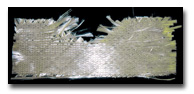 Competitors fabric without V-Lock technology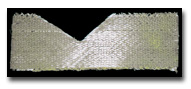 V2 fabric with V-Lock
July 2003