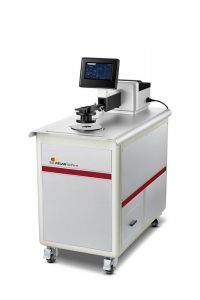 ROCK HILL, S.C. — August 10, 2023 — SDL Atlas has released the next generation of its versatile AirPerm Air Permeability Tester. The AirPerm now has test head options specific for testing personal protective equipment (PPE), allowing for Face Mask Testing to EN 14683 and Foam Testing to ASTM D3574 & EN ISO 7231.
Other features of the new AirPerm include:
Touch screen controller within easy reach;
Test results stored on the main controller and exported via a USB drive;
Automatic ranging system eliminates need for operator interface during a test;
Powerful, yet quiet vacuum accommodates a variety of test plates to suit every application and features easy checks for daily verification;
20 cm test head comes standard and is used for instrument calibration;
Eight additional heads available; and
Side drawers for test head and accessory storage.
The AirPerm makes air permeability testing affordable while maintaining confidence that test results meet international and retailer standards for textiles, nonwovens, and paper providing quick, straightforward results in the unit of measure of your choice.
Posted August 15, 2023
Source: SDL Atlas