Rieter Machine Works Ltd., Switzerland, reports new features on its RSB-D 45 and SB-D 45 draw
frames improve both machine flexibility and sliver quality. The draw frames offer a maximum
delivery speed of 1,100 meters per minute.
According to the company, delivery speed on a model without autoleveling can be changed by
pushing a button using the machine's touch-screen interface. No drive disc change is necessary,
allowing the delivery speed change to take place at short notice. The change gear now is placed
ergonomically near the rotational plate drive, making alterations to can rotation and sliver
distance to the can quick and easy. The machines' new gear layout now features a reduced number of
belts.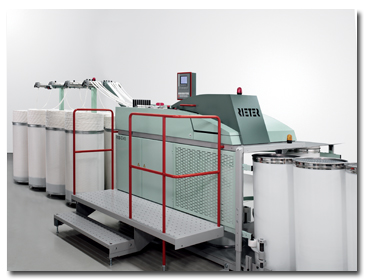 Rieter RSB-D 45 draw frame
Upgrades also include the addition of Cleantube, a rotational plate control device that
reduces buildup of cotton trash particles and short fibers in the sliver channel. According to
Rieter, Cleantube saves up to 300 man-hours per year by reducing the need to clean trash from the
sliver channel, and also reduces the amount of sliver waste generated by up to 0.6 percent. Fewer
trash particles also result in improved sliver quality by eliminating up to 200,000 faulty places
per year per draw frame, leading to easier downstream processing.
January/February 2011