Fredericksburg, Va.-based Kaeser
Compressors Inc. has added the SFC 11 variable speed drive, rotary screw compressor to its line of
Sigma Frequency Control (SFC) compressors.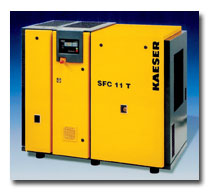 The new, space-saving model features
the company's Sigma Profile airend, Sigma Control Basic system and the latest drive technology; and
offers from 17 to 75 standard cubic feet per minute in pressures up to 217 pounds per square inch
gauge (psig). Its split-cooling air-flow design facilitates ducting and results in very low noise
levels, according to the company. It also features wide-opening access doors that allow access to
the main components and reduce access footprint and clearance. An integral refrigerated dryer is
available as an optional feature.

January/February 2006