Sheen Instruments, England, has launched the SOLARmaster line of accelerated ultraviolet (UV)
weathering test cabinets that utilize state-of-the-art filtered xenon light technology to test
photosensitivity and durability in textiles. Available in two standard and two
microprocessor-controlled models, the cabinets offer flexibility of configuration for precision
testing according to industry standards such as AATCC 16, BS 1006-B02, DIN 54004 and ISO 105-B02.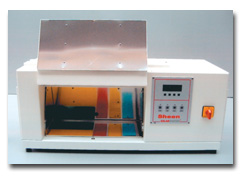 Sheen Instruments' SOLARmaster


Interchangeable filters are used with the xenon lamp to simulate the samples end-use
environment. Temperatures are controlled to simulate the material degradation effects of infrared
radiation. SOLARmaster's closed-loop irradiance sensor control system ensures continuous irradiance
measurement and control, and its parabolic reflector chamber with the xenon lamp in focus enables
uniform irradiation, according to Sheen.

January 2004