Tensitron
Inc., Boulder, Colo., reports its TX-125 digital tension meter enables ultra-accurate measurement
of fine materials. The device measures tension on filaments or textiles having a diameter of 0.0001
inch to 0.0060 inch, or on wire measuring 54 to 37 AWG.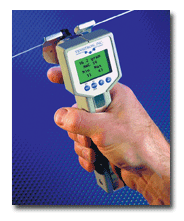 Tension values can be read in grams, centinewtons (cN) or pounds. Resolution is adjustable
down to 0.1 gram, and full-scale accuracy is 1 percent or better for all calibrations that can be
selected in the menu. The TX-125 uses NIMH rechargeable batteries. It is CE-certified, complying
with heavy industrial immunity standards. Features include automatic shut-off, password-protected
calibration values, speed and length measuring, user-adjustable display update and back-lit LCD.
Options include RS-232 for serial interfacing, analog outputs with user-definable ending sequences,
and magnetic or rigidly mounted mounting brackets.

February 2003