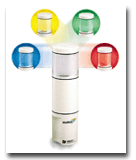 Using the latest LED technology, Federal Signal Corp., Electrical Products Group, University
Park, Ill., now offers a status indicator that adds the attention getting signal of a strobe light
to the utility of a stack light. The Unistat Status Indicator has four colors red, green, amber and
blue with four flash patterns steady-burn, slow flash, strobe flash and SimuStrobe.Unistat is rated
NEMA Type 4X and IP66, UL-listed CE-approved and CSA-pending. The indicator is available in
24VAC/DC and 120VAC operating voltages. Units are preassembled and ready for either surface mount
or 3/4-inch pipe mount.
May 2001