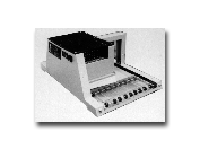 Strategic Products Inc., Indian Harbour Beach, Fla., manufacturer of the ACCU-HEAT II line of
bench-top, convection, conveyor ovens for SMT solder reflow, drying and curing operations, has
introduced its newest model, the Sidewinder.The Sidewinders design allows items with localized
heat-process requirements to be addressed without the need to heat the entire product. The oven
operates on 100-volt power, has a temperature range to 275°C and includes automatic shutdown.
Machine options include input and output extensions and a high temperature belt cover.

March 2001