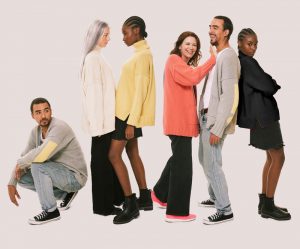 Bee&Sons has unveiled its first boyfriend cardigan collection, designed for anyone and everyone who feels like snuggling up in 100-percent recycled cashmere.  
TW Special Report
Bee & Sons has introduced boyfriend cardigans in a four-part collection debut with two cardigans: Oskar, featuring an exclamation mark and Joey, featuring a questionmark. Although designed for men — specifically Bee's four sons — the collection has already been seized by women — the girlfriends — as the ultimate boyfriend cardi. Following a philosophy for not creating waste, Bee&Sons' new collection is created in small batches with a pre-order availability, with a wait time of up to two weeks. Bee&Sons uses the very best Italian yarns magicked out of textile waste in Prato. The collection is knitted in the United Kingdom by the best quality knitters.
TW: When establishing your brand, what was the first step that you took to begin making it sustainable? 
Bee: Choosing the right yarn. I wanted 100-percent recycled yarn but during lockdown I was restricted to 100-percent natural. As soon as i could get hold of recycled cashmere, I focused on that. However recycled yarn is notoriously difficult to knit because it's recycled and we had to test it to make sure it was genuinely sustainable and wasn't just going to pill and fall apart after three wears. There's no point to using a yarn that isn't long-lasting.
TW: What challenges did you encounter to minimize your environmental footprint? 
Bee: Wow — so many! You have to rethink everything. If you run out of boxes, you can't just pop to WHSmith [bookstore]. You need to think about EVERYTHING before you do it. You can't use foil or the wrong sort of sticky tape or bleached paper, for example. You have a to check your suppliers are sustainable,  that the knitters have the right working environment and that they aren't [throwing] out their waste in the [trashcan]. Getting buy in from your supply chain also is hard. You must really believe in what you are saying otherwise suppliers just think you are a bit mad. I've had people say to me, "why don't you just use this acrylic yarn? It looks the same and it's so much cheaper." You have to stick to your guns.
TW: How do you sustainably source your materials?

Bee: I do tons of research. Also, I get advice from my knitters. And there are sustainable forums that have lists of good suppliers.
TW: What dyes do you use? 
Bee: Recycled yarn requires no dyeing.
TW: Can you share some of the ethical production standards of the factory that you work with? 
The factory is working towards some certifications. I know what they do with their waste — they give it to me — and i know as much as i can know about their standards as I'm there all the time. I'm treated like one of the family.  I think some of the certifications are complicated and expensive so i trust my gut right now. Also, I am not sure that certifications stand up to much scrutiny.
TW: What are your sustainable goals for the future?
Bee: I'd love to start making my own yarn in the UK so i am not importing yarn from Italy. As it stands, the recycled cashmere i use is the very best you can buy. Super high quality so it will last and be loved a long time.
October 12, 2023