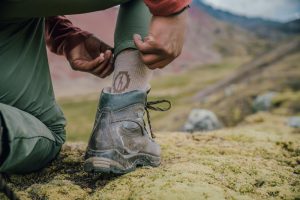 BOULDER, Colo. — September 28, 2023 — PAKA®, an innovator in alpaca fiber apparel, is excited to announce the launch of its new Performance ¾ Crew Sock. Since its launch in 2017, PAKA has been setting the standard for alpaca-based athleticwear. The Performance ¾ Crew Sock highlights their latest innovation with the natural fiber, incorporating the finest alpaca yarn diameter the company has ever used to create an ultra-soft and highly durable multisport sock.
Alpaca fiber is a performance powerhouse — it's naturally odor resistant, moisture wicking and thermoregulating. Alpaca's impressively low moisture retention rate of 8 percent (typical wool compares at an average of 18 percent) helps to keep feet dry and comfortable, and avoids the moisture and friction buildup that can lead to blisters. Alpaca fibers also contain a keratin protein with natural antibacterial properties that make it incredibly difficult to make these socks smell.
Paka takes these inherent features of the fiber to the next level with intelligent design. The Performance ¾ Crew Sock is crafted with a snug rib-knit design to avoid shifting and friction, a breathable mobility mesh where the ankle meets to the foot to promote ventilation, compressive arch support, and strategic extended heel padding for high-impact zones.
"We wanted to create a versatile performance sock that could stand the test of intense biking, hiking and backpacking. We went all the way back to refining the yarn in Peru, creating a much finer thread count that would knit into a high-compression rib," said Kris Cody, PAKA Founder and CEO. "We went through probably 15-20 prototypes, sending them out on treks until the sock encompassed everything our community needed."
The Performance ¾ Crew Sock is available for $24 in Black, Charcoal, Blue, Walnut, Quail and Forage colors
Posted: September 27, 2023
Source: PAKA