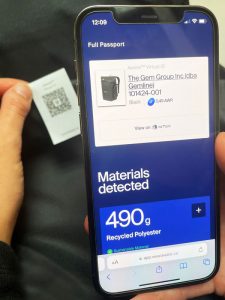 LAWRENCE, Mass. — August 30, 2023 — Gemline, a promotional products supplier, partners with the award winning Aware™, a global textile traceability solution for the fashion and textile industry. The goal is to leverage the sustainability and transparency levels for its products for its clients. First roll out with the tech of Aware will start with MiiR, a B-corp and Climate Neutral certified company, and the collection will be available starting in August.
Traceability in promotional industry
The current state of traceability in the promotional industry is in its beginning stages, and there's a growing need for sustainable practices. Aware steps in to assist companies on this traceability journey, ensuring validated claims are presented through a digital product passport, based on primary data.
Gemline strongly believes there is always a better way to do business and make a positive impact. The company's headquarters uses solar panels to generate 45 percent of its energy and is a zero landfill facility, a member of the UPS Carbon Neutral Program, and received a bronze medal from EcoVadis in 2022. Additionally, Gemline is focused on offering responsible products that are free of chemicals that endanger people and the planet, and products that use recycled or renewable materials, and promote reuse. The company is committed to the goal of a PVC-free product line by 2025.
"Gemline places a strong emphasis on substantiating the claims we make regarding the sustainability of our products," said Frank Carpenito, president and CEO of Gemline. "The utilization of Aware's state-of-the-art technology represents a groundbreaking advancement in enhancing textile transparency within our supply chain and sets a new precedent in the United States. We take immense pride in being pioneers to introduce this groundbreaking technology to the market and living up to our Betterway™ corporate social responsibility promise to create a positive and meaningful impact on both people and the planet."
Partnership with Aware™
The award winning technology is a phygital-physical and digital-traceability solution that is based on primary data from the maker. The scannable tracer is embedded in the fiber at source and as well has its digital twin on a public blockchain,  where data is added by makers of the product, making fraud pointless. Aware traceability solution, which creates a Digital Product Passport (DPP), won the Avantex Fashion Pitch Grand Prize 2023 at Texworld Evolution Paris.
Aware physical tracer was embedded in the recycled polyester by Gemline. To Koen Warmerdam, co-founder and brand director: "Our partnership with Gemline, a company that has sustainability at its core, as Aware, is something we are thrilled about. Consumers want to understand where their products come from, but it does not stop there. They want total transparency. And that's what we can give them with our technology. The whole supply chain becomes transparent and the information is super reliable because we get the info from the primary source."
Gemline's first roll out with Aware™ for MiiR® Olympus 2.0 Collection
The newly redesigned MiiR® Olympus 2.0 collection features six modern bag styles ranging from backpacks to a messenger bag, sling bag and organizers, all built with recycled materials containing AWARE textile traceability technology. This collection was designed with ultimate functionality in mind. It features ultra durable coated fabrics that help shield against the elements, making them perfect for everyday adventures from travel to commuting, and beyond.
MiiR is committed to prioritizing business practices and strategies that preserve the long-term viability of people and the planet. It offsets 100 percent of their annual carbon footprint through their Climate Neutral certification and utilize PCR (post-consumer recycled) materials throughout their products. MiiR grants a portion of their yearly topline revenue to nonprofit organizations whose work empowers communities while stewarding the planet . The company is also a B-Corp, 1 percent for the Planet member, Climate Neutral Certified, and is Certified Evergreen®.
Gemline's collection with Aware technology includes: MiiR Olympus 2.0 15L Laptop Backpack, MiiR Olympus 2.0 1L Tech Organizer, MiiR Olympus 2.0 3L Zippered Pouch, MiiR Olympus 2.0 2L Sling Bag, MiiR Olympus 2.0 8L Messenger Bag and MiiR Olympus 2.0 25L Laptop Backpack. The products will be available from August.
Posted: August 30, 2023
Source: Gemline