LONDON — June 21, 2023 — Knitwear brand Sheep Inc. has launched what it describes as the world's first naturally negative carbon footprint T-shirt with a Near Field Communication (NFC) enabled tag for consumers to trace the source and environmental impact of their purchase.
The company is proud to announce the first T-shirt that naturally has no carbon footprint: Climate positive since launch, this global first has been achieved by Sheep Inc.'s relentless drive for sustainable supply chain innovation and its commitment to regenerative farming methods. With today's milestone, Sheep Inc. is among the first company that can not only be classified as a sustainable fashion brand, but as a truly regenerative one.
"We believe in the fashion industry's collective responsibility to create products that work within safe, planetary boundaries," said CEO & Co-Founder of Sheep Inc. Edzard van der Wyck. "We therefore need to start designing products that naturally have a regenerative effect on our planet. Products that in their creation and use give back more to nature than they take, without the need to offset. This T-shirt serves as a testament that this is possible. To reach a future where we design in harmony with nature."
Synergistic supply chain innovation to achieve zero emissions
To achieve its naturally regenerative profile, Sheep Inc. spearheaded a synergistic partnership across suppliers and manufacturers, with the aim to minimize impact and maximise performance. With the collective belief of leveraging the best of nature and science-based material innovation to create knitwear with no equal.
At the raw material stage, Sheep Inc. exclusively uses carefully sourced, extra-fine 19.5 micron Merino wool from three regenerative sheep stations in New Zealand: Lake Hawea Station, Middlehurst Station and Omarama Station. These three farms sit at the forefront of the regenerative farming movement and use innovative land management, feeding and grazing techniques to capture more CO2e from the atmosphere than their operations emit. Making their properties, as well as the wool they produce, carbon negative. This carbon-negative fiber is then processed by Sheep Inc.'s supply chain partners across Europe, who run on 100-percent solar power, to spin the yarn, manufacture the garment and run logistics.
Using the next evolution in material science, Sheep Inc. works with Germany-based yarn mill Südwolle to spin the extra-fine Merino wool and apply a chlorine- free treatment to the yarn called Eternity X-Care®. A pioneering, performance-increasing treatment for the wool that uses no chlorine or harmful chemicals and is Bluesign© and OKEO-TEX® certified. With the aim to achieve unparalleled quality, machine-washability, and generational durability. Each T-shirt is then created by Portugal-based specialist knitter Fatextil using 100-percent solar powered, 3D Wholegarment® knitting machines, to ensure a zero-waste manufacturing process. All orders are fulfilled from the UK's first carbon-neutral logistics partner Airbox, which is completely solar powered.
Merino wool's unique self-cleansing properties and zero-odor retention ensure that emissions from washing, and drying are reduced to a minimum. And every T-shirt is 100-percent biodegradable to ensure zero trace at end of life. On top of this naturally negative carbon profile, Sheep Inc. will continue investing 3 percent of its revenue into their Radical Farming Fund. Investing funds back into biodiversity and research initiatives at their own suppliers to ensure a continuous improvement of sustainable impact.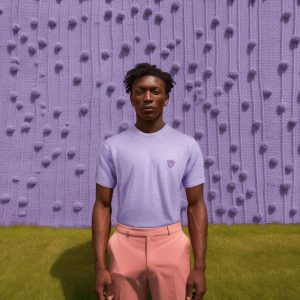 Not A T-shirt. A new design standard. 
Each piece of Sheep Inc. knitwear is engineered to restore our relationship with the natural world. With every element of the brand considered, the Sheep Inc. design approach sources natural materials that are enhanced by science.  Pared-back luxury, realized in the finest quality 19.5 micron Merino wool. A perfect blend of the technical benefits of Merino wool, enhanced through material and design science to achieve a garment that feels as soft as cashmere but is crafted with generational durability. The T-shirt is available in six natural base colors and four limited edition pastel hues
The T-shirt also carries Sheep Inc.'s signature design elements: a hand-finished "smit-mark" detailing on the back of the neck, using factory offshoot yarn that would otherwise go to waste. And Sheep Inc.'s symbol of reconnection, the signature Connected Dot.  An NFC enabled tag clipped on the hem of the garment that is made from bio-based EcoPAXX®, and removable via a clip system.
Taping the Connected Dot provides all details of the T-shirt's unique creation journey and gives the carbon footprint per step. And as the name Sheep Included suggests, it also links the wearer to a sheep on one of the New Zealand farms that contributed to the knitwear. Allowing you to interact with the origins of your product. In our case a sheep. Creating a product that is in constant dialogue with nature and can be returned to nature. This is what working in harmony with nature looks like.
Sheep Inc work with Carbon Footprint Ltd. to independently calculate and verify the negative carbon profile of each T-shirt produced via an unbiased Product Life Cycle Assessment from cradle-to-grave.
Winner: Positive Luxury's "Environmental Innovator of the Year" award for 2022. 
Sheep Inc. recently won Environmental Innovator of the Year at the 2022 Positive Luxury Awards. This award recognises entrepreneurs, developers, agencies, suppliers, brands and other organisations that have demonstrated the most impressive innovation within an environmental sustainability initiative or project.
"Sheep Inc. showcase the positive impact fashion brands should be striving for by being naturally carbon negative through regenerative farming and products which are 100-percent biodegradable. Added to that is 100-percent traceability and trackability — with innovative NFC tagging — ensuring consumers can see first-hand the environmental impact of their purchase," said George Scott, Senior Sustainability Client Services manager, Positive Luxury
Posted June 27, 2023
Source: Sheep Inc.