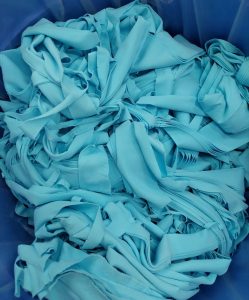 HONG KONG — February 23, 2023 — Crystal International Group Ltd. has been spending untiring efforts in minimizing operational waste generation and disposal in its global factories. To move ahead towards the vision of Zero Landfill, the group is working relentlessly to adopt holistic waste management and put circularity into practice. Crystal's sportswear factory in Vietnam and lifestyle wear factory in China successfully attained zero production waste to landfill by diverting 100 percent of its production waste away from landfill and incineration through recycling and waste-to-energy.
Further to the group's waste management practices across the entire production and supply chain, including reduction at source via managing material purchasing and utilization, the factories stepped ahead and fully uncovered the value of fabric waste with various initiatives through collaboration with qualified waste co-processing partners.
The sportswear factory in Vietnam recycled fabric waste to pillow cores and plastic powder. These recycling initiatives successfully reduced more than 125,000 kilograms (kg) of carbon emissions per year originated from the waste treatment and disposal. The factory also recovered energy and made use of fabric waste material for cement production by a thorough process of mixing fabric waste with cement raw materials and co-processing at least 1400°C in cement kiln. Around 5,900 kg of cement could be produced by recycling over 117,000 kg of waste.
The lifestyle wear factory in China established a comprehensive waste collection system which encompassed waste streams. In addition to recycling fabric waste into yarns, other waste such as sludge and food waste were recycled into bricks and fish feed respectively. To fully utilize all sorted waste, non-recyclable waste was sent to waste co-processing partner for energy recovery. In 2022, the factory diverted 3,040 metric tons solid waste from landfill.
"Waste is not a waste, we upcycle and recycle fabric waste from factories to create new styles. We always embed circularity into our design to manufacturing stages and rethink how fabric waste from operation could generate positive impact. Look forward to collaborating with different partners to explore new circularity opportunities," said Catherine Chiu, vice president, Global Sustainability of Crystal International.
Circular economy is one of key enablers to remedy waste issue in the supply chain and achieve net zero. Crystal International will continue to scale up circularity and upcycling with other stakeholders, paving the way for an ecofriendly and sustainable fashion industry.
Posted: February 23, 2023
Source: Crystal International Group