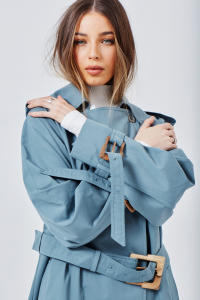 LONDON — November 23, 2021 — An award-winning sustainable fashion brand is hitting the catwalk at next year's London Fashion Week with a new men's collection designed using a research and development (R&D) tax rebate.
Premium British fashion brand Aqua & Rock was founded in 2018 as an alternative to fast fashion with a complete focus on accessible sustainable fashion for all. The business believes in "The Power of One", meaning a single closed-loop fashion chain where one piece of clothing lasts a long time, and can be returned to become either another piece of clothing, or be made into fertiliser that will also continue the loop.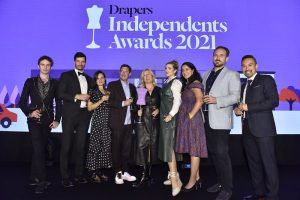 Since the launch, the business has gone from strength to strength, opening its first store in a prime London location and with founder Dea Baker winning Innovator of the Year at the Drapers Independent Awards last month.
Baker said: "We hope that our business model acts as a guide to others around the world; our clothes are a statement to say that the person wearing them really cares about the planet. Not only that, but we have created sustainable clothing that people want to wear. We went through a lot of trial and error to get to where we are, but it was all worth it and we are excited to showcase our new men's line soon!"
To keep the carbon footprint to a minimum, the business source all material from U.K. or E.U. suppliers and most of the manufacturing is based in the U.K. and E.U. This also ensures that the supply chain will always adhere to the latest U.K. and E.U. environmental and employment standards, and thus be treating people fairly while helping to look after the planet.
The new line wouldn't have been possible without R&D tax credits, claimed through tax specialists Access2Funding. A lot of research went in to sourcing and creating the correct materials and fabrics, with the business's founder Baker pointing out that often ethical and completely sustainable fabrics don't appeal to the wider consumer audience.
One such material created by the business that was eligible for R&D was Aqua Triblend, a material that combines recycled plastics, organic cotton, and upcycled clothing to create a sustainable solution for its premium fashion.
Whilst recycled yarn and cotton already existed, clothing made from these materials was inflexible and subject to damage when washing and through everyday use. Aqua & Rock sought to provide clothing made from these resources that advanced upon that which was already available by achieving high quality and longevity.
Samuel Lobb, client account manager at Access2Funding helped Aqua & Rock with the claim, he said: "To work with a business with such a high ethical standpoint was a privilege. Dea was careful to avoid 'green washing' throughout the process and ultimately is helping global effort to decrease negative human impact on the planet. R&D can be found in many places and I'm glad to see the money is being invested back into creating more sustainable products!"
Access2Funding is the fastest growing R&D specialist in the United Kingdom. It has so far claimed back over £44m of R&D tax credits for businesses and has offices across the country, from the Scottish Highlands, to Wales and down south to Kent. The business has more than quadrupled its workforce in the last year and increased turnover by 119 percent.
Posted November 23, 2021
Source: Access2Funding