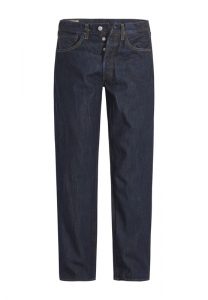 SAN FRANCISCO — October 12, 2021 — In early 2022, Levi's® will launch a version of its most iconic product, the 501® Original, made with organic cotton and post-consumer recycled denim, and designed to itself be recyclable. As part of our ongoing partnership with Swedish company Renewcell, this speaks to both the enduring nature of the 501 and the brand's commitment to moving towards more circular products and practices.
This launch builds on last year's release of a collaboration between Renewcell and our Wellthread™ line on the 502™ for men and High Loose for women using the same materials, which was named a "World Changing Idea" by Fast Company. In each case, we are using a mix of Renewcell's pioneering Circulose® fiber, a sustainably sourced viscose made in part from recycled denim, and organic cotton.
"Last year's Wellthread collaboration with Renewcell showed that this could be done, that we could find man-made cellulosic fiber made with recycled denim that was strong enough and durable enough to meet our quality standards. That hadn't been possible before with mechanically recycled denim," said Paul Dillinger, vice president of Design Innovation.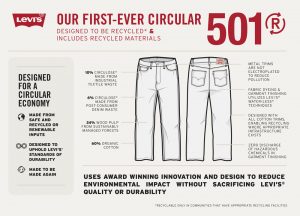 "Now we're taking that innovation and applying it to what could rightly be called the most iconic garment in all of apparel, the 501, which shows how serious we are about moving in the direction of circularity. Not only will our circular 501 jeans be designed to stand the test of time, just as they always have been, but they'll also be able to find a second, third or fourth life as new garments."
Making these jeans with recycled denim content blended with certified organic cotton means the garment uses far fewer natural resources and fewer chemicals to produce. Reducing the environmental impacts of our materials is part of our broader strategy for resource conservation across the life cycles of our products and is an important part of our Buy Better, Wear Longer message and campaign.
"In our ongoing research and development, we strive to improve our design practices and conserve environmental resources every way we can," said Una Murphy, Levi's director of Design Innovation. "By incorporating sustainable innovation, we learn what's possible and work towards solving some of our biggest challenges."
Our use of renewable and recyclable materials — like Circulose and certified organic cotton — is an important part of a broader holistic approach to circularity. Each and every material component going into our circular 501 jeans was developed and selected to align with a strict single-fiber strategy that enables efficient recycling at the end of the jean's useful life.
By replacing those parts of the garment that would normally be made from synthetic fibers — like polyester pocketing, threads, labels, and interfacing — with 100-percent cotton alternatives, we've removed pollutive elements that would otherwise disrupt the cotton recovery process. The result is a new jean made from old jeans that's designed with the potential to be re-made into new jeans — again and again.
"We are still early stages in apparel's move towards real circularity, which is so necessary given how consumptive and wasteful this industry can be," Dillinger said. "By producing our signature jean, the 501, with recycled content and in a way that makes them recyclable, we're hoping to show ourselves and the industry that it really can be done, and that we can deliver more sustainable product that saves resources, still looks great, and meets the highest quality standards."
Why Is This Important?
Fashion needs a better, more circular model.
Cotton, though a natural material, has its challenges: more farming of conventional cotton means usurping more water, land, and natural resources. As demand for clothes continues to rise in the coming years, how do we meet that demand without inflicting harm on ecosystems around the world? In 2015, for example, the fashion industry consumed 53 million tons of virgin fibers; 26 percent, or one-fourth, was cotton fibers alone and 73 percent of these fibers ultimately ended up in a landfill or were burned. As a denim brand, dependent on cotton, this is troubling.
We're committed to finding new and better ways to reduce our impact through circular design and production practices. Since 2015, we've used our Levi's WELLTHREAD collection as a laboratory to test and validate new approaches to applied circularity for the fashion industry. In July 2021, we joined the Ellen MacArthur Foundation's Jeans Redesign Project with a commitment to grow our circular product portfolio. The circular 501 is our first product that comports with EMF's Jeans Redesign Guidelines.
Circulose's Origins
Swedish startup Renewcell has been working on a solution to recycle textile waste since 2012. A year and a half ago, they opened a recycling plant outside of Stockholm which can produce up to 4,500 tons of Circulose, a fashion raw material made from textile waste, every year. That's enough to make more than 20 million T-shirts. After a successful Nasdaq IPO in November 2020, the company is now building a second plant more than ten times the size of its existing one.
Part of an emerging group of innovators in the fashion industry focused on recycling that's eco-friendly, effective, and scalable, Renewcell was started by professors and material scientists at the Royal Institute of Technology in Stockholm in 2012. The company spent five years developing the technology used to break down any cellulose-based fabric, either pre-consumer waste (i.e. cuttings from factories, excess fabric) or post-consumer waste (i.e. already worn or damaged clothing).
While there are existing mechanical recycling facilities that break down natural materials such as cotton, the resulting fibers are weak and not durable, having to be blended with synthetic fibers to make them stronger, deeming them non-recyclable. The polymer recycling process developed by Renewcell makes it possible to manufacture fabric that competes with the best non-recycled materials used in the industry today.
The process does use water, chemicals, and energy, but the chemicals in Renewcell's recycling process are recovered and reused as well, and the plant runs on renewable energy itself. The water used is a fraction of what's needed to grow conventional and organic cotton, and after internal treatment it's clean enough to be released directly into the nearby Lake Vänern. Operating in Sweden, under the guidance of EU laws on textile manufacturing, even the incoming waste materials have to meet strict safety criteria.
Posted October 12, 2021
Source: Levi's