BURSA, Turkey — May 25, 2021 — As part of ISKO's Responsible Innovation™ strategy, the company has a commitment to supporting the next generation of design students and up-and-coming designers and brands. This commitment was shown most recently when the leading denim innovator donated a selection of its premium denim fabrics to three students at the Savannah College of Art and Design, to support the design and development of their final year collections and help them shape their creative vision.
On May 7, the students' collections were presented to a panel of fashion industry experts,
including ISKO's Marketing and Business Development Manager, Sonny Puryear, who
offered invaluable feedback and support for their future endeavours.
"Fostering and nurturing young talent is extremely important at ISKO", explained Puryear.
"Their visions will shape the future of the fashion industry, so it's our responsibility to support their growth by sharing knowledge, expertise and even providing the denim for their projects."
The university has taken part in several past editions of ISKO's I-SKOOL™ denim design contest, so it was logical that three of this year's graduates, Ifeade Adedokun, E'Naiyah Frazier, and Maryam Muhammad would turn to ISKO in light of its longstanding knowledge and expertise when it comes to denim. The company was proud to provide them with top quality ISKO fabrics, developed according to the most advanced and responsible processes available and in compliance with the strictest international standards.
About the designers and their projects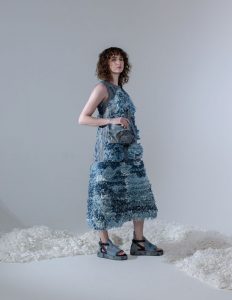 Ifeade Adedokun — Raised in Nigeria by her grandmother, who taught her how to sew, Ifeade Adedokun embraced the uncertainty of the times we are living in and called her collection Random. Winner of the NBAF Emerging Designers Awards, she gathered her mixed feelings about the future to develop her project, exploring denim through the use of texture.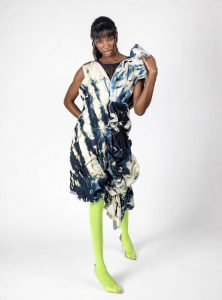 E'Naiyah Frazier — E'Naiyah Frazier was taught by her grandmother and mother to express her creative freedom in every aspect of life. Now, as a young designer, she keeps fueling her passion through knowledge and experimentation, enhancing her designs by incorporating traditional denim elements. Through bleached, tie-dye effects and high contrasts, her collection embraces the Kintsugi and Wabi Sabi philosophies, which encourage one to find beauty within imperfection.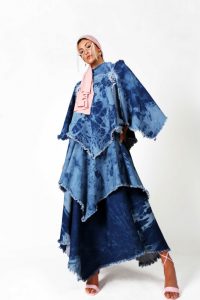 Maryam Muhammad — Maryam Muhammad is a multi-talented fashion designer and artist specializing in modest fashion, photography, painting, sculpting, and graphic design. She strives to make fashion that makes women feel and look good from the inside out. She has been dedicated to style since she was 8, but it wasn't until she was in her twenties that she realized that she wanted to create fashion for women like herself who had often struggled with accepting the beauty of who they are. Once she discovered self-love and self-acceptance, she found her purpose in creating modest fashion. Focusing on the uniqueness of women and their own experiences, her goal was to create a collection meant to fit all women and to inspire and motivate everyone who feels an "imperfect Muslim" like she does.
Posted May 25, 2021
Source: ISKO