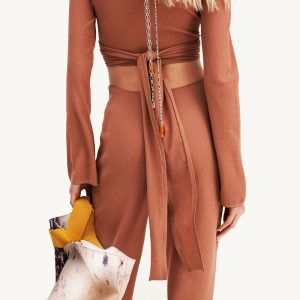 STOCKHOLM — March 29, 2021 — Swedish We aRe SpinDye (WRSD) takes its place with its unique coloring technology in the latest Innovation Stories collection, Color Story from H&M. This is a clear milestone in the work of creating an increased focus on color among fashion companies and a heightened awareness of the negative environmental effects that occur when dyeing textiles.
We aRe SpinDye introduced in 2016 a unique and extremely resource-efficient dyeing process. By using the company's technology when dyeing textiles, water consumption is reduced by 75 percent and chemical consumption by as much as 90 percent compared with traditional water dyeing of fabric. A technology that is now part of the latest Innovation Stories collection, Color Story from H&M. The fact that more companies in the fashion industry must pay attention to the negative environmental effects that occur when dyeing textiles has been We aRe SpinDye`s biggest driving forces since the start.
"We aRe SpinDye has devoted its entire existence to highlighting how enormously resource-intensive the dyeing process is in textile production. It is a global problem that needs more attention. It has been fantastic to work with pioneering and brave designers over the years who show that it is possible to create fantastic creations with our resource-efficient coloring method. We want to highlight that color and process can no longer be ignored," said Andreas Andrén, CEO, WRSD.
Reports show that dyeing alone accounts for almost 24 percent of the resources consumed during a garment's entire lifetime. From raw material, through production and use to recycling or in the worst case the landfill. In just one year, the clothing industry uses 9 billion cubic meters of water and 168 million tons of process chemicals to dye fabrics. We aRe SpinDye now hopes that 2021 will be the year when more brands in the industry will pay attention to the ways that are available when it comes to resource-efficient dyeing procedures.
"We believe in abandoning the harmful model of using wet dyeing and instead lead by example to inspire the textile world to choose a modern, more sustainable dyeing method. You can avoid wet dyeing completely by adding color pigments to the fiber in the same moment as the fiber is made. In this way, both water, chemicals and CO2 can be reduced to a minimum," Andrén said.
This is the second time We aRe SpinDye has participate in one of H & M's premium collections, and the company has also collaborated with H&M Womenswear and Arket earlier this year. The collection will be launched in selected stores and on hm.com from April 15.
Posted March 29, 2021
Source: We aRe SpinDye