T-ChIP™ (Textile Chemical Information Profile) opened for business earlier this year. It is a chemical hazard and risk assessment program that has been designed by textile chemistry experts for textile and textile chemical manufacturers, brands and retailers. It gives manufacturers a summary of hazards and risks that will help them manage chemicals responsibly, communicate with customers and address the industry mandate for more sustainable, eco-friendly textile chemistry. Using the most current toxicological data, T-ChIP assesses a material's or product's hazards and risks at the ingredient level.
Current clients are brands that need to have a mechanism to find out what chemical properties are safe for consumers, and eliminate or alter those with high hazard and risk factors.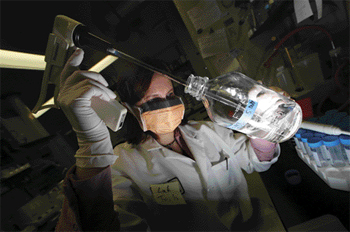 For each commercial chemical roduct (CCP), T-ChIP chemists provide a hazard assessment, risk assessment and overall T-ChIP Ticket, which is a combined CCP hazard and risk assessment.
New regulatory requirements and marketplace expectations are causing companies to rethink how they verify the chemical safety of materials and products. And textile product brands and retailers are demanding more and more chemical information from their suppliers to help them be effective supporters of sustainability and consumer product safety initiatives.
Brands and retailers also want reassurances about the individual ingredients in a chemical. Commercial textile chemical products such as finishing agents, lubricants, detergents, dyes and pigments are blends of many chemicals; and their formulas are most often proprietary. Brands and retailers are now asking for information about ingredients. Through T-ChIP, an ingredient-level hazard assessment is conducted confidentially, so that no trade secrets are revealed.
Manufacturers provide information about their commercial chemical products — including all ingredients — through a secure portal. T-ChIP assesses the hazards presented by the product and its ingredients against all relevant restricted substance lists (RSLs), international regulations and the most current toxicological information.
In addition to hazard assessment, risk management is part of a responsible chemical management program. Risk is assessed based on information provided by manufacturers about operating procedures in areas such as water, air, waste treatment, materials handling and employee training. T-ChIP evaluates these procedures against industry standards to determine the manufacturer's risk. T-ChIP then combines risk and hazard assessment to determine the probability that the commercial compound would pose a threat when used as intended.
T-ChIP has partnered with SciVera LLC, Charlottesville, Va., which has developed an extensive chemical toxicology information platform. Combining SciVera's ingredient hazard assessment information with a practical analysis of human and environmental exposure, T-ChIP creates a hazard/risk profile for a commercial textile product while protecting the textile chemical manufacturer's intellectual property.
"SciVera has created one of the most extensive and well-respected chemical toxicology databases in the world," said T-ChIP co-founder Dina Dunn. "Through our partnership with SciVera, we provide clients with cost-effective, reliable and thorough analyses using the very best and very latest information available. T-ChIP and SciVera do this work within a confidential framework that protects proprietary formulas and trade secrets, a service never before available in the textile industry."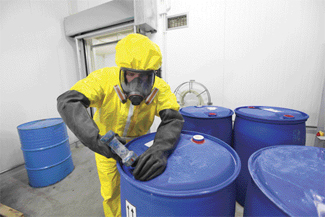 The terms "hazard" and "risk" often are mistakenly used interchangeably. A toxic chemical — if a person, or the environment, is exposed to it — is a hazard. The risk is limited or reduced if the exposure is properly managed and controlled.
SciVera has long worked with the toy industry, where chemical toxicity is an important consideration. At T-ChIP, information regarding the ingredients in each chemical is forwarded to SciVera without disclosure of the actual chemical or the client's identity. SciVera analyzes the information and passes it back to T-ChIP, whose staff of chemists, headed by Sam Moore, Ph.D., assess the hazard and risk factors for each product.
"The launch of T-ChIP greatly simplifies the product chemical assessment process for the textile industry," said SciVera founder Joseph Rinkevich. "In addition to providing an effective analytical and reporting function, T-ChIP is also a powerful chemical management tool. Each T-ChIP report provides textile manufacturers with a detailed understanding of the hazards and risks associated with their chemical compounds down to the component level, leading to safer processes at the facility and safer products for the market. We look forward to our continued partnership with T-ChIP's textile chemistry experts."
T-ChIP and SciVera are actively working with prominent sustainability advocates including the Outdoor Industry Association, American Apparel and Footwear Association, Sustainable Apparel Coalition, International Oeko-Tex® Association, U.S. Environmental Protection Agency, and Apparel and Footwear International RSL Management (AFIRM) Group.

---
SpinGreen Turns New York City Green
In the one year SpinGreen has been in business, it has diverted well over 3 million pounds of textiles from landfills, and has donated more than $100,000 in cash and clothes to charitable organizations. There are 600 locations in New York City where textile products may be dropped off.
Polina Groman, CEO and founder of SpinGreen, said the idea came from a friend in England, where used merchandise is recycled. "I then discovered that throughout Europe there is much more awareness of sustainability than there is in this country," she said. "I think that attitude is changing, partly through SpinGreen."
SpinGreen takes textiles others turn down. What is reusable is donated to charitable partners. What is not is recycled for other uses such as housing insulation or car seat stuffing. Children's clothing is one area in which there is an enormous turnover — a lot is very slightly worn, and some is nearly new. "In New York City, people live in apartments and don't have a lot of storage space," Groman said. "They are looking for a good way to donate merchandise."
Textiles that are not reusable are sold. Some proceeds are given to major charitable organizations such as The Police Athletic League, American Red Cross and Gay Men's Health Center. Other proceeds are used for SpinGreen's other philanthropic initiatives, including after-school educational programs. "By working with schools and boys and girls clubs we are teaching positive attitudes toward recycling. This helps to bring in more used merchandise and to create awareness," Groman said.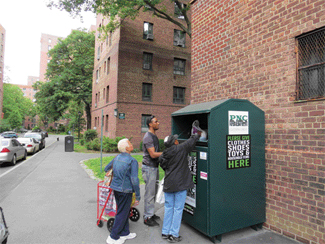 New York City residents may deposit used textiles in collection bins provided by SpinGreen, which recycles the textiles for reuse or for conversion for insulation, stuffing or other uses.
---

July/August 2014