GREENSBORO, N.C. — June 16, 2014 — Cone Denim, a global leader in denim innovation, is excited to announce VaraBlue™ color denims. Developed under the direction of Cone's R&D incubator, Cone® 3D, VaraBlue fabrics are engineered to achieve unlimited color options using a unique garment dyeing procedure that simulates the look of traditional denim. VaraBlue denims are produced out of Cone Denim's historic White Oak plant in North Carolina.
"VaraBlue offers a unique color story," says Kara Nicholas, vice president product development and marketing. "Its 'Ready to Dye' garment approach gives tremendous versatility in developing most any color in small quantities. It's like a blank canvas with unlimited color and wet processing options and offers great flexibility in keeping pace with market shifts & color trends."
Using a specially developed yarn-treatment process, the warp yarns are pre-treated so that the dyes used in the garment dye process adhere to the warp yarns only, leaving the untreated filling yarns natural and thus creating denim with yarn dye and ring dye effects. VaraBlue color denims can be laundered in similar ways that indigo denims are processed including stonewashing, hand-sanding, enzyme washing, and lasering. Another advantage is VaraBlue's sustainable dye process that lowers energy consumption, requires less water, and reduces waste from the process, providing both eco-benefits and overall cost savings.
VaraBlue fabrics are targeted for both men's and women's jeans and are offered in three fabric styles that include SGene® stretch, rigid non-stretch, and comfort stretch. VaraBlue denim is currently available for sampling and can be seen at Cone Denim's booth at Kingpins New York July 22 and 23.
"These new denims speak to the consumer on many levels and offer wide market appeal beyond its color evolution," says Nicholas. "With VaraBlue you can achieve clean sexy modern or authentic vintage washes that mimic traditional indigo with highs and lows on seam abrasion, color chip off, fading, and ring dye effect. We're excited to expand Cone's sustainable denim offerings and add to our collection of Made in the USA denims."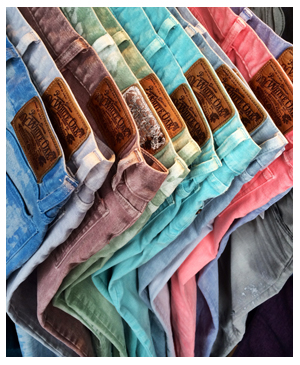 Posted June 24, 2014
Source: Cone Denim