Germany-based Karl Mayer Textilmaschinenfabrik GmbH recently introduced a new Multibar Textronic® Lace series machine for economical lace fabric production. The MT 51/1/32 features more than 32 yarns in front of the fall-plate to enable unique and varied effects in the finished lace in addition to larger widths of lace bands.

The machine currently is supplied in a 134-inch working width and gauge of E 24. The company reports E 18 and E 28 gauges also will be available in the future.

Karl Mayer's China-based subsidiary Karl Mayer (China) Ltd. will supply the machines, with the first deliveries scheduled the third quarter of this year. Further details about this machine, as well as an entry-level MT 31/1/16 featuring fewer fall-plate yarns and an MT 43/1/24 with fewer guide bars will be available at ITMA Asia + CITME 2014, to be held in Shanghai June 16-20.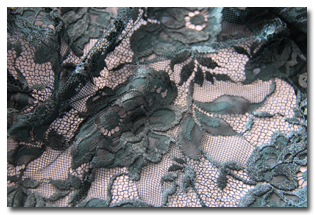 A sample of lace fabric produced on Karl Mayer's MT 51/1/32 machine.
April 15, 2014