PHENIX CITY, Ala. — April 29, 2013 — Sports headwear brand The Game is launching a collegiate
apparel line that includes a collection entirely manufactured in the United States called American
Threads. Founded in 1986 by sporting goods icon Neil Stillwell and known for its superior quality,
tradition, and signature designs, The Game provides official headwear for nearly a thousand college
baseball teams.
"We are one of the few manufacturers of collegiate apparel that can take a product from the
cotton field, all the way through finishing, and to college playing fields right here in America,"
says Jeff Stillwell, President of The Game. "We believe the time is right to manufacture a
collegiate apparel collection here in our own country. We see some positive business reasons, of
course. But more importantly we also appreciate the impact that manufacturing an apparel line will
have on the US economy and in creating new jobs."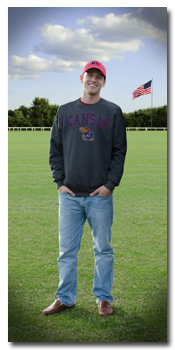 A shirt and hat from The Game's American Threads collegiate apparel line
"We recognize that in today's economic climate, it's a bold move. But The Game has been about
bold innovation since its founding. This is an exciting venture for us, and we know it's the right
thing to do, at the right moment in our company's history."
The Game's American Threads collection will be available in campus bookstores starting in the
Fall of 2013.

Posted on May 7, 2013
Source: The Game